How do I setup my email?
You should have received your username and password from 3plains.
Password Reset - It is HIGHLY recommended you reset the password we have sent you in the top right corner under Settings > Change Password and also add your cell phone number under Update Phone in the settings (in case you forget your password). You can do this in the Webmail version (https://mail.3plains.com/)
Your email will be stored on our Rackspace powered email servers and backed up daily. If you have a laptop, a home computer, business computer, iPad, iPhone, or whatever your setup is, all of your data will all stay synced up and updated across all of your devices no matter what setup you would like to configure. Here are the most common ways to check your email below.
Server Settings
Secure Sockets Layer (SSL)
IMAP (incoming) secure.emailsrvr.com Port 993
SMTP (outgoing) secure.emailsrvr.com Port 465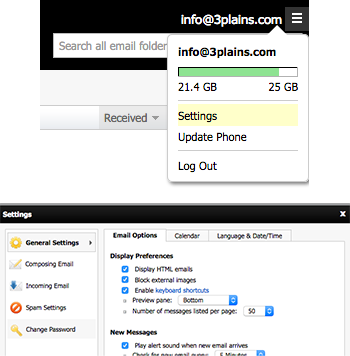 1. Using A Web Browser (3plains Webmail)
Access your company email from any browser with the following link. Note: It is recommended that you change the password after logging in. In upper right corner like below and click Settings > Change Password (View example photos).

Login: https://mail.3plains.com (Bookmark this link)
Username: myemailname@mydomainname.com
Password: we have sent this to you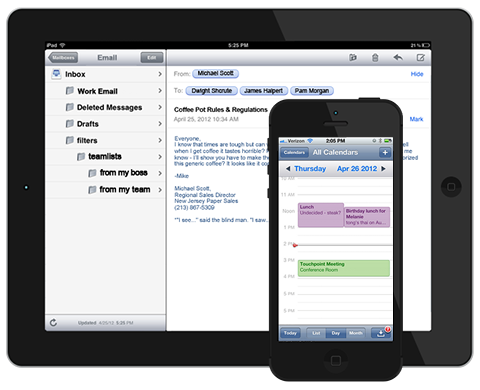 2. Using A Phone/Tablet
With our Email, you can enjoy IMAP access on practically any mobile phone or tablet. Check your email on your iPhone, Android, iPad, Kindle or other mobile device. All of your email is synced up with multiple devices automatically. Use the following instructions below to setup your device. These instructions will sync your email, contacts, calendar, tasks, reminders for your device.
General Settings
Username: myemailname@mydomainname.com
Password: we have sent this to you
How to Setup Your Email
Setup Wizard & Instructions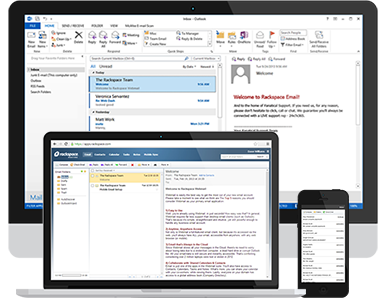 3. Using Desktop Client Software
Works with your favorite desktop software like Microsoft Outlook, Thunderbird, Windows Mail, or many other desktop clients. All of your data is synced up with your other devices automatically.
General Settings
Username: myemailname@mydomainname.com
Password: we have sent this
How to Setup Your Email
Setup Wizard & Instructions
Back to FAQ