Search engine list
This document will help you get started on your search engine term list. It's not real detailed, but it should help get the point across with what type of terms, phrases and words you should be thinking about.
SEO Value Pyramid
Glance at the below figure. This pyramid represents the search engine optimization (SEO) value pyramid. Think about your terms in relation to this pyramid.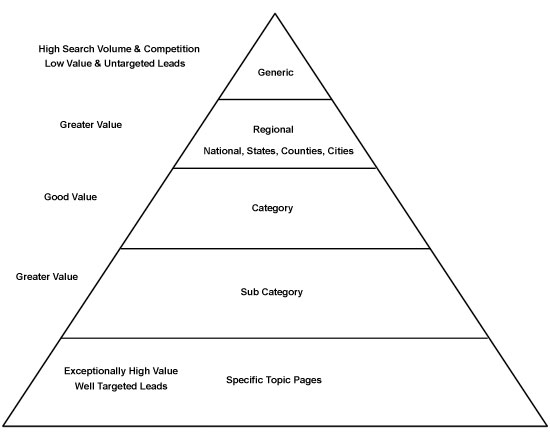 1st Level (Top): Your homepage, or in other words, the top of the pyramid, should be your most generic and high search volume terms. Example: If you have a website about camping products and primarily sell Coleman camping products, optimize your homepage for terms and phrases like "Coleman Camping Gear", or "Coleman Camping Equipment" or "Coleman Camping Outdoor Supplies". If you have a general camping website, optimize your homepage for "Camping Gear, Supplies, Equipment, etc". You get the picture.
2nd Level: The second level of the pyramid may or not apply to you depending on if you have a national, regional, county, or city level website that sells a service or a regional based product.
Level 3, 4, 5: These levels should break your products down to the category, sub category and specific topic pages. Lets break down that camping example further. Level 3 would break down to "Coleman Camping Gear", Level 4 would break down to "Coleman Camping Cooking Equipment" and Level 5 would break down to "Coleman FryWell Portable Fryer".
Why Is The SEO Value Pyramid Important?
Simple. Targeted search engine traffic = Sales!
What Is The Next Step?
Come up with a basic list of terms, phrases and words from the above SEO Value Pyramid and work with an SEO professional like 3plains to take your website to the next level. Let's look at a sample list from our camping example from above.
Example:
Generic Terms

Camping Products
Camping Gear
Camping Products
Camping Accessories

Category Terms

RV Patio Decorations
Camping Gear

Sub Category Terms

Camp Stoves and Cookers
Camp Tools

Specific Terms

Coleman Propane Skillet (May contain SKU's or specific terms)
Stove Carrying Case
How Much Does This Process Cost Your Business?
Think about what this process can bring to your business. If you're not pushing a large dollar value in product then maybe this process is not for you. However, I have seen businesses start the process on a limited budget, grow sales, and keep re-investing the dollars right back into the website.
I talk to people everyday that don't know the power of a productive website is leveraged to the core with good SEO running the website. High quality SEO can make or break your online business, and even your brick and mortar business.
Timeframe and Results
SEO is not a one time thing. It takes time and energy. Customers that are more hands on will make the process much easier, since the customer and the SEO professional can both "stick to what they are good at". However, if you are a lazy customer (you know who you are), then your out of pocket cost will be greater, because you don't choose to do anything.
In Conclusion
SEO business consultants are vital to your business. Make sure you get serious about it and make sure you listen to your SEO professional. Before using an SEO professional make SURE you check references and results.
Still need help or don't want to DIY?

We have maintenance service and website update packages available. Please fill out a ticket and a 3plains representative will reach out to you with details on pricing and packages.
Back to Marketing