>
>
>
Photo showing as a blank white box
Photo showing as a blank white box
When loading photos in your photo gallery, you may run into a problem where the photo says it is loaded, but only a white box shows up: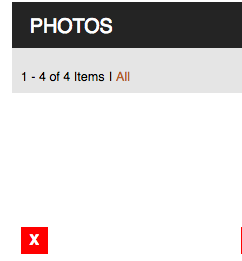 If you see this, check the name of the file. Photos should only be named with letters, numbers and dashes. Make sure all special characters (% or & or @ or #) are removed. Once you have renamed the file, upload it again. For Example: a photo named "nicoles%bighunt&deer" would not upload correctly because of the % and & in the name. When I rename to "nicoles-big-hunt-deer" or even "nicolesbighuntdeer" it will load just fine. More information on how naming photos can work for you.
Still need help or don't want to DIY?

We have maintenance service and website update packages available. Please fill out a ticket and a 3plains representative will reach out to you with details on pricing and packages.
Back to Website Management