A.J. Davidson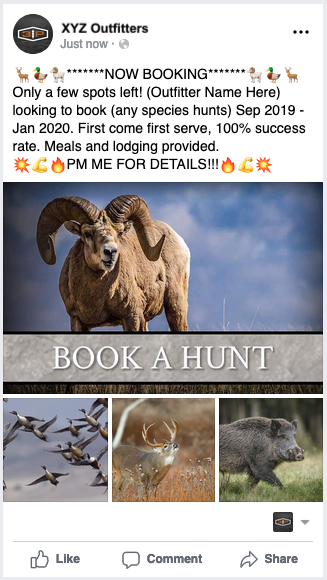 Likes vs Leads: Will Social Media Dependency Kill Your Hunting Business?
August 23, 2019 by A.J. Davidson
We've all witnessed it on social media. Typically observed in the middle of the year once Spring hunting and trade show seasons have come to an end, and outfitters have had time to begin filling out their schedules for the upcoming Fall & Winter hunting seasons. If you're still unclear with where we are going with this, please reference the screen shot image that is featured with this introduction.
What Gives?

With an active, extensive social media outreach and hundreds of photos featuring clients placed alongside successful harvests, one might ask, "Why is a hunting outfitter claiming to provide a premium service resorting to last minute solicitation of social media followers in order to operate their first-class operation?" Is it the exclusivity of the type of hunts being offered or the remote location of the outfitter, or is it the questionable legitimacy of the outfitter who posted this "Hunt of a Lifetime" opportunity on Facebook or Instagram? Besides, anyone can claim to be anything they want to be on social media, right?
Read More