3plains Postcard Design
When you think postcards, most think of the card you get from your grandma while she was at Mt. Rushmore in South Dakota. Or that trip your father took hunting with out you duck hunting in Arkansas. A postcard was an easy and quick way to keep in touch, somewhat like a text message these days but with more thought.
Now think of that client you just took out hunting and or fishing? The smile on his face after that incredible experience he had, or the moments after the hunt reminiscing about the day. Now fast forward a few weeks, the look on his face as he opens up the mail and sees a postcard with your logo and eye catching photography. Just a thanks for visiting your lodge, hope you had a great time.
3plains is your source for custom postcard designs. A postcard is a great way to keep your business fresh in the mind of your clients. At the very least, after the hunt or fishing adventure, the client may use this to show his or her friends at work and relive the time he had. So when your looking for that quick and painless print marketing, look into our custom postcard designs.
Below are the options we at 3plains offer for custom postcard design. These prices include the layout and design of the postcard. All content and photography will be the responsibility of the client. We also offer printing at an additional cost.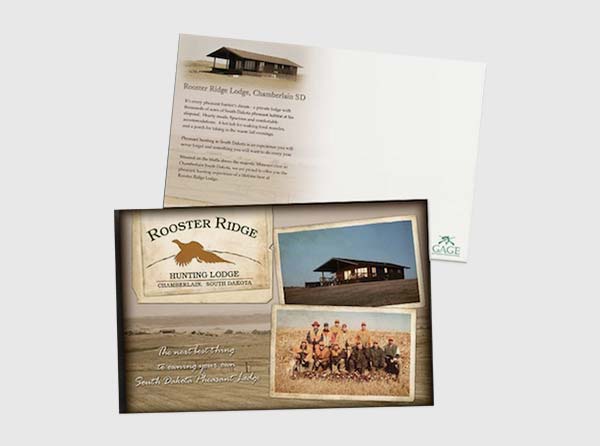 Silver Postcard Design
- Stock template of our postcard design
- Marketing message on the front with 2 photos and logo
- Photo and content on back with content and area for a message
- High-Resolution PDF file Download
- 1 Concept will be shown
- 1 Revision
- Printing costs are additional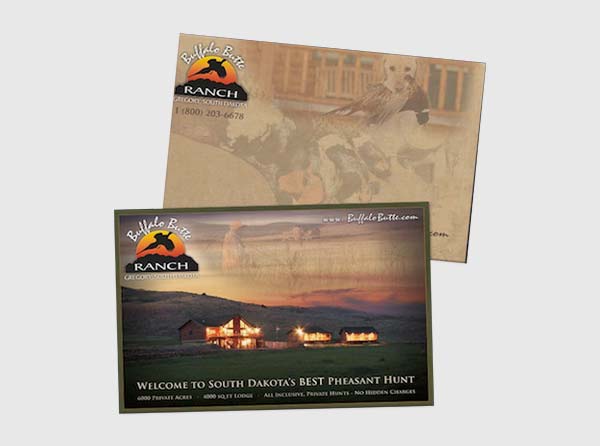 Gold Postcard Design
- Custom graphics and layout upon your request
- Custom front photo graphic with marketing message and logo
- Custom back graphic and logo layout
- High-Resolution PDF file Download
- 2 Concepts may be shown
- 2 Revisions
- Printing costs are additional