Trade Show Design Services
Trade show design services by 3plains.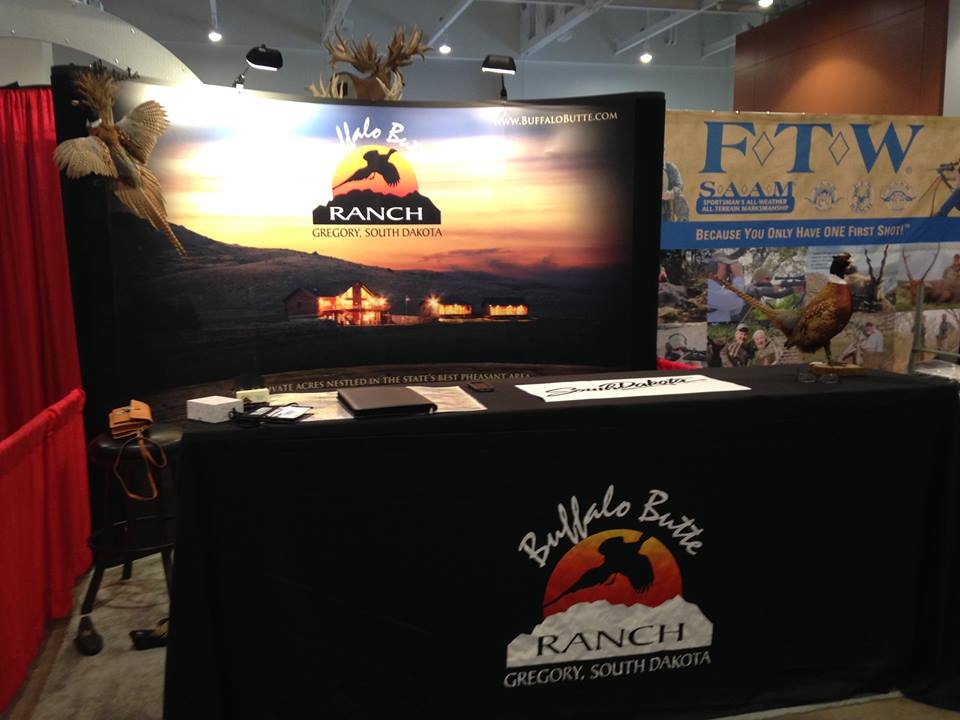 Portable Pop-Up Displays
Do you need some ideas on how to stand out in a crowded trade show when you only have a 10-foot space? Do you need to be able to travel with your display? Would you rather fly to your location and have your booth ready for you when you arrive or do you prefer to take your truck and enclosed trailer with your trade show booth?
Portable displays are designed to travel, setting up quickly and easily for the person on-the-go. When you use a few banner stands or a tabletop display, they can pack into road cases that fit into the back of your car or be shipped using UPS or FedEx. Whether it's a pop-up display or a modular fabric mural, you'll deliver your message in a clear and concise way. Capturing the attention of the outdoorsman and promoting your products and services to their greatest advantage.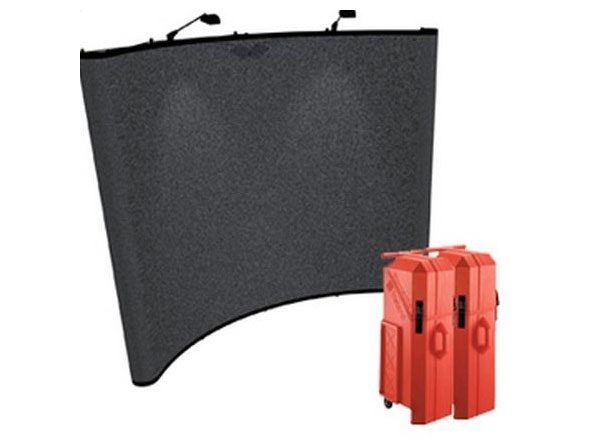 Installation & About The Pop-Up Stand
The Nomadic Instand 8x10 (10ft) Pop-Up Display is a great solution for first-time exhibitors or as a last-minute display solution. There are a variety of solutions from magnetic panels to fabric panels. We recommend magnetic panels like the Buffalo Butte Ranch example shown on this web page.
Own vs. Rent - You can own or rent this pop-up stand kit. The kit includes the pop-up frame, fabric panel end caps, lights, and hard shipping cases. Display Rental Includes 1 Week Rental, Nomadic pop-up frame with struts, Fabric panels, 2 Halogen Lights, and 2 RollEase Cases.

Additional Options - There are options for table rental, chairs, bring your own, or rent from the event. The options depend if you want to sit on a low table, stand at a high top table, off to the side, or in front of a podium. Please discuss what you're looking for with 3plains so we can find out what you prefer and how many people you have at the trade show booth typically at an event.
Installation - Installation is easy. Watch this 2-minute video below.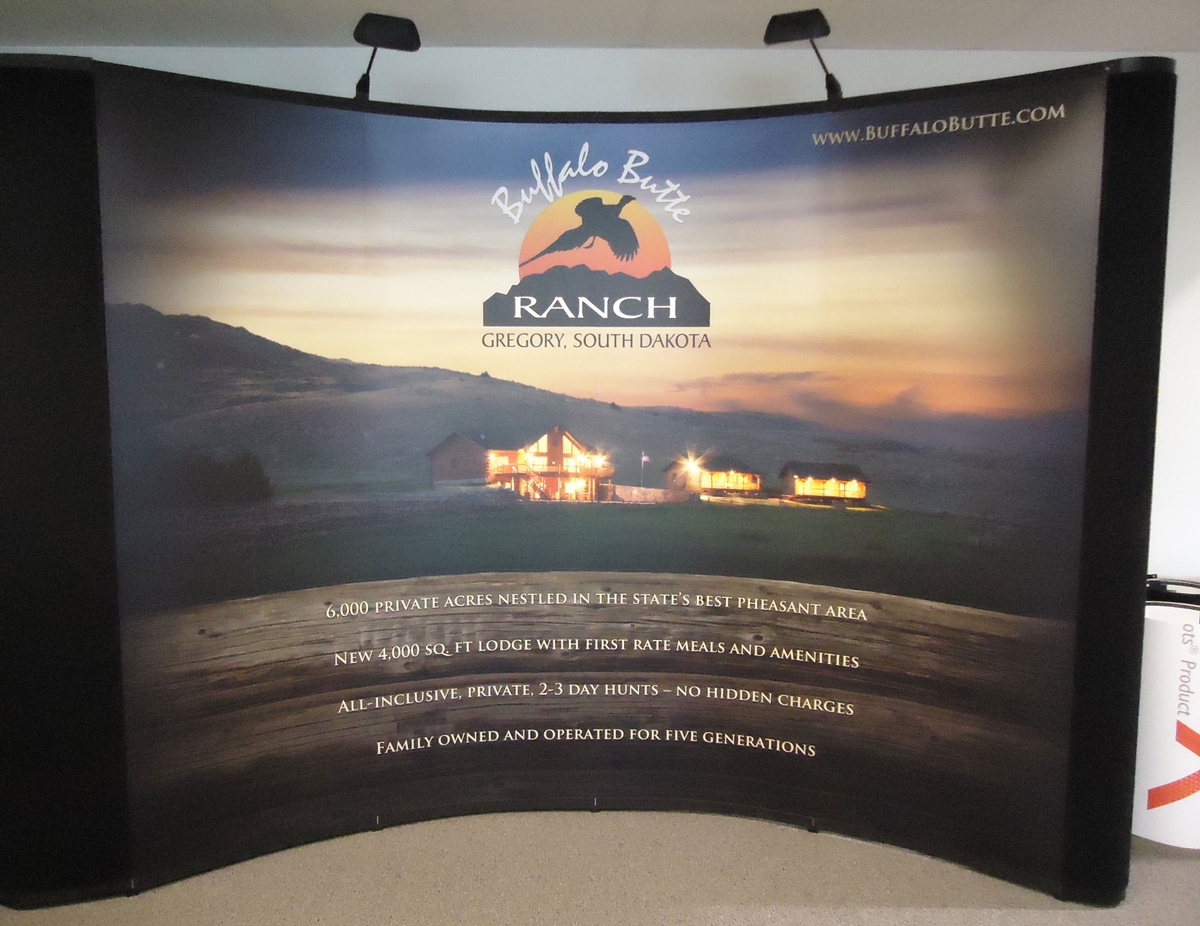 1. Portable Full Pop-Up Display
This Nomadic Curved Exhibit example is 10 feet wide by 8 feet tall for the client Buffalo Butte Ranch. 3plains designed a very clean design that showcases their lodge, logo/brand, and website in the upper right-hand corner. We decided to go more minimalist with this design since we wanted to let the lodge and pheasant logo speak for themselves. We put a wood background across the bottom along with featured bullet points since the client was going to put a table off to the side of the booth. They opted for a high-top table with a black cloth that has the company logo printed on it and high director's chairs. Unfortunately, this type of setup hides the bottom text on the cloth but with the booth design, it works both ways.
The design was put on 3 magnetic panels that roll up in the plastic cases. The vendors we use have high-quality printing on the panels so they can be used for years without fading or flaking.
We recommend the rental solution versus buying. This rental kit includes the pop-up frame, fabric panel end caps, lights, and hard shipping cases. All items get shipped in the cases. They rent the table and chairs at each show and the table cloth with the logo is shipped with the items.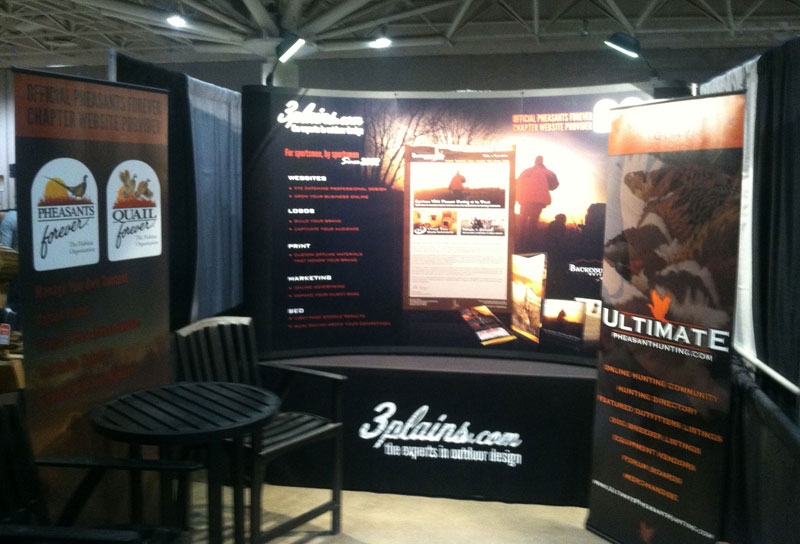 2. Portable Pop Up Table Top Display
This Nomadic Curved Exhibit example is 8 feet wide by 4 feet tall for 3plains at a Pheasants Forever tradeshow. This is actually an example of what NOT to do, even though it was our booth space. This example has the table pop-up display in the background, a table and chairs we brought, and 2 retractable banners. As you can see, it's crowded and not a good setup for a 10' area. Proper planning is important to your trade show booth.
Focus on only the back table and pop-up display. The table features a black cloth with a 3plains old logo on it. Sitting on the table is a portable pop-up table top display that is 8' x 4'. The design was put on 3 magnetic panels that roll up in the plastic cases. The vendors we use have high-quality printing on the panels so they can be used for years without fading.
Another portable pop-up table example is at the very bottom of this article under trade show tips. There are a lot of variations we can design.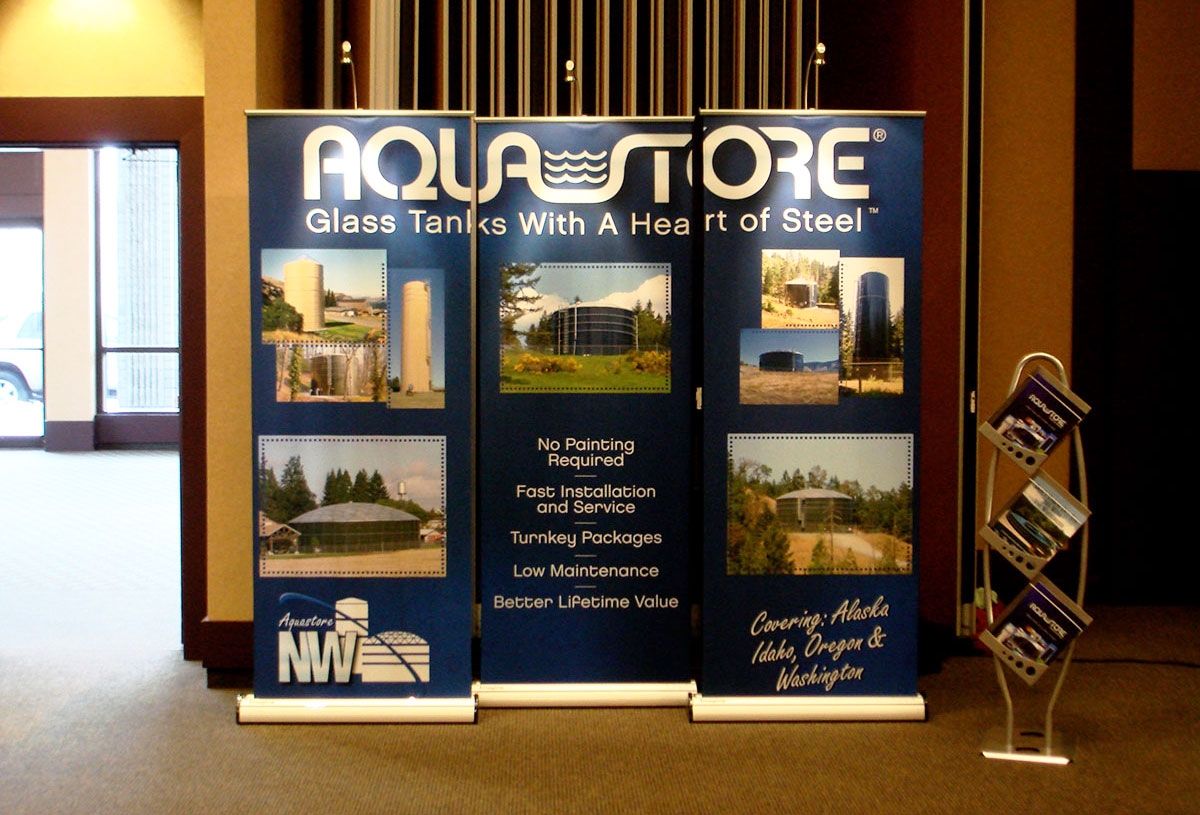 3. Collage Retractable Banners
A collage of retractable banners is nice since they set up in minutes and fit perfectly as a backdrop in many trade show booth areas.
These examples of portable displays use lightweight materials and matched impactful graphics, these traffic-generating displays, and modular back walls are best sellers. They combine style with creativity to build powerful presentation capabilities. Add a welcome counter off to the side and a video monitor to showcase your hunting or fishing operation to complement your exhibit system and engage your potential customers.
A lot of hunting and fishing outfitters overthink the tradeshow design and add too many items to it to try and add "wow" to it. This ends up cluttering your area and confuses the customer. Keep the area simple using the KISS method and let your product speak. As a guide, lodge or outfitter, you are part of the product.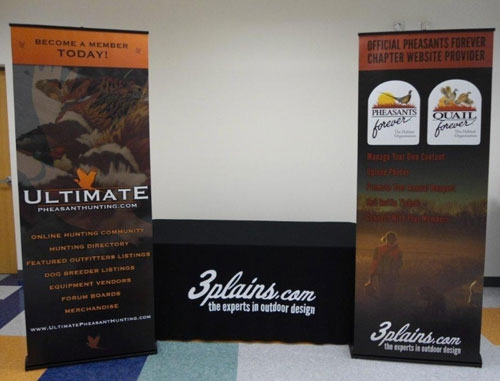 4. Independent Retractable Banners
Retractable Banner Stands are a great marketing tool for hunting, fishing, and outdoor trade shows. You can set them up in a variety of ways. The retractable banners include a printed banner, stand, and a case. They come in cases almost similar to pool cue cases.
As an example, we have seen customers use 2 retractable banners and 2 directors' chairs and this was all they had in the 10' x 10' booth. The booth generated more traffic and interaction since you can pull the banners out more than halfway out of the 10' x 10' area, pulling you closer to the walking traffic and generating more interaction with the customers. Ultimately, we recommend a trade show solution that you are most comfortable with and that you will feel the best in.
View Retractable Banner Specs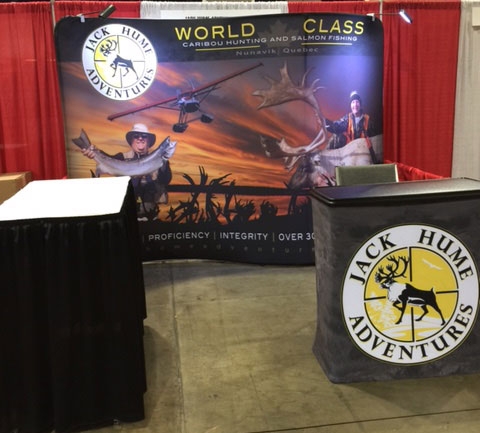 5. Other Options
There are so many different variations out there depending on your trade show booth area. The most common size is 10' x 10'. Feel free to hit Google Image search and google trade show exhibit portable as an example to help figure out what exactly you will want for your business.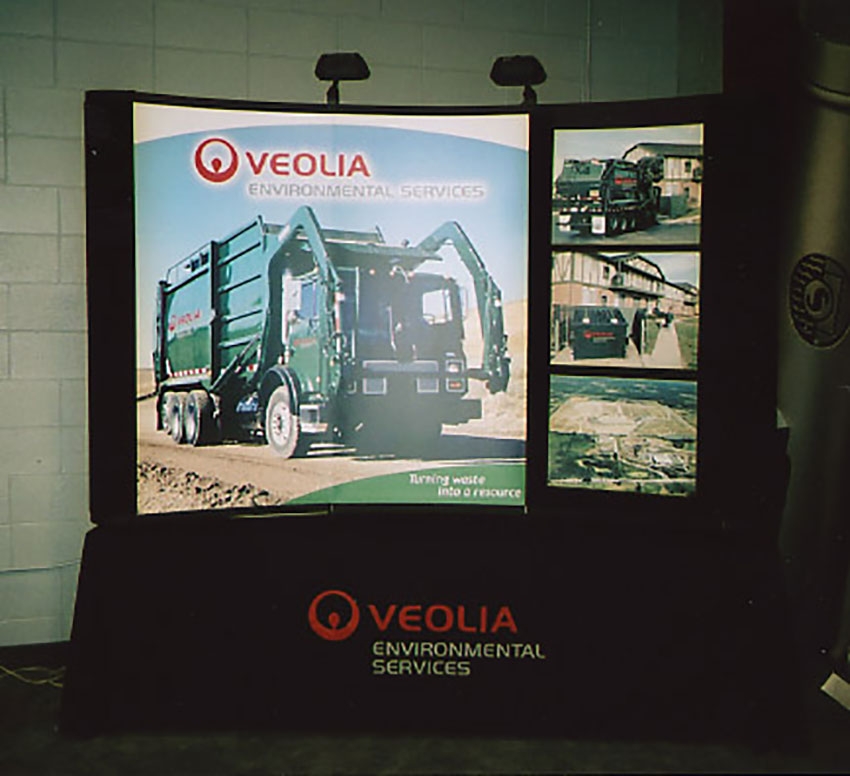 Trade Show Tips
What are the sales numbers for your last trade show? If you aren't sure, this article will help you come up with a trackable process for trade shows, so you can start to do the numbers and determine ROI of each show.