Fishing Website Design
3plains offers great-looking mobile responsive fishing websites that produce results. Simply put, the goal of our fishing websites is to produce more bookings for your fishing services. Our design options include fishing website design, custom-drawn fishing logos, print design, and top-ranking fishing SEO results. We are your one-stop shop for fishing marketing services, servicing charter captains, lodges, guides, saltwater, freshwater, drive-in, fly-in, houseboats, or whatever flavor of fishing service you may offer in the fishing industry.
If you are a fishing lodge, outfitter, or guide looking for a new website, please give us a call at 612-716-2060 and we'll be happy to discuss our fishing web design process. It's time to ask yourself - are you ready to take your fishing business to the next level?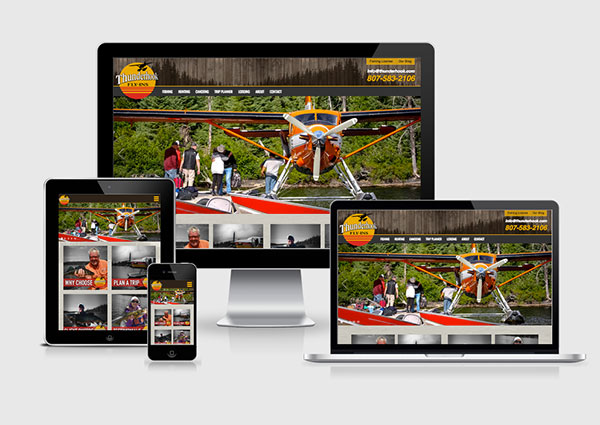 Web Design & Website Redesign Services
Services for fishing Guides and Outfitters, Lodges, Charters, Marinas

Owning a fishing guide service or lodge is a large enough task. Having to design a fishing business website is something you should leave to the professionals at 3plains. At 3plains we design, create, and manage custom fishing websites across North America and we know what it takes to get people to notice your fishing guide service or lodge.
3plains has been professionally designing fishing websites for lodges, charters, and guide services since 2006. Our experienced staff understands your fishing business and applies a proven methodology when designing your custom fishing website. A professionally designed fishing website should load fast, hold a prospective client's attention with high-quality visuals & content, and feature seamless navigation throughout the website. At 3plains, we custom build each of our fishing website frameworks while following a proven web design process that takes advantage of best SEO practices in order to maximize bookings for your fishing business.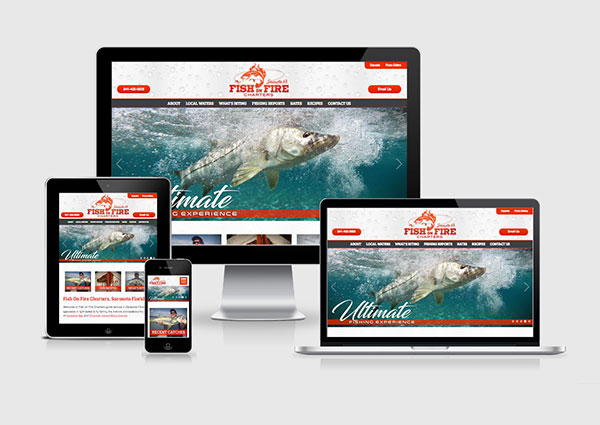 Fishing Guides and Outfitter Websites
For fishing guides and outfitters, one of the best forms of advertising can be a custom fishing guide website designed by 3plains. We can customize your website to the needs of your fishing business. Whether your fishing website design needs to be complex or simple, we can create an eyecatching website design for your fishing charter service.
While there are many options for your fishing charter website, our number one goal is to develop a custom fishing website with a comprehensive marketing plan that allows you to book more clients. Please take a look at some of our fishing guide website designs that we've produced for our clients over the years and let us know if we can help your fishing business. We are sure to find something to fit your needs and boost your business.
From Alaska charters to Canadian Fly-In Outfitters, Atlantic Saltwater, Gulf of Mexico, Pacific, Mexico, South America, or wherever the area and location, we service it.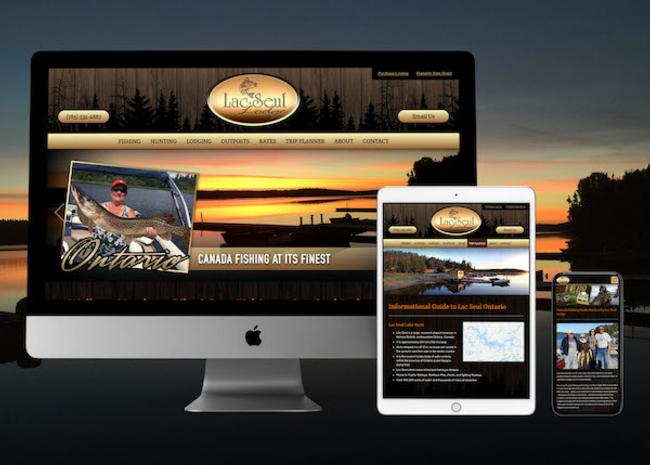 Website Hosting & CMS
Does your fishing website offer you the flexibility to update and manage your own content? Here at 3plains, we have developed our own custom Content Management System (CMS) for our fishing guide sites that allow you to make changes to your fishing website with ease. Add photos, update fishing rates, provide current fishing reports, and share client success stories from any connected computer, smartphone, or tablet.
Please take a glance at our 3plains CMS page to read more about the features we offer. If you do not have the time to update your website, we have several marketing options in which 3plains will take care of the updates for you.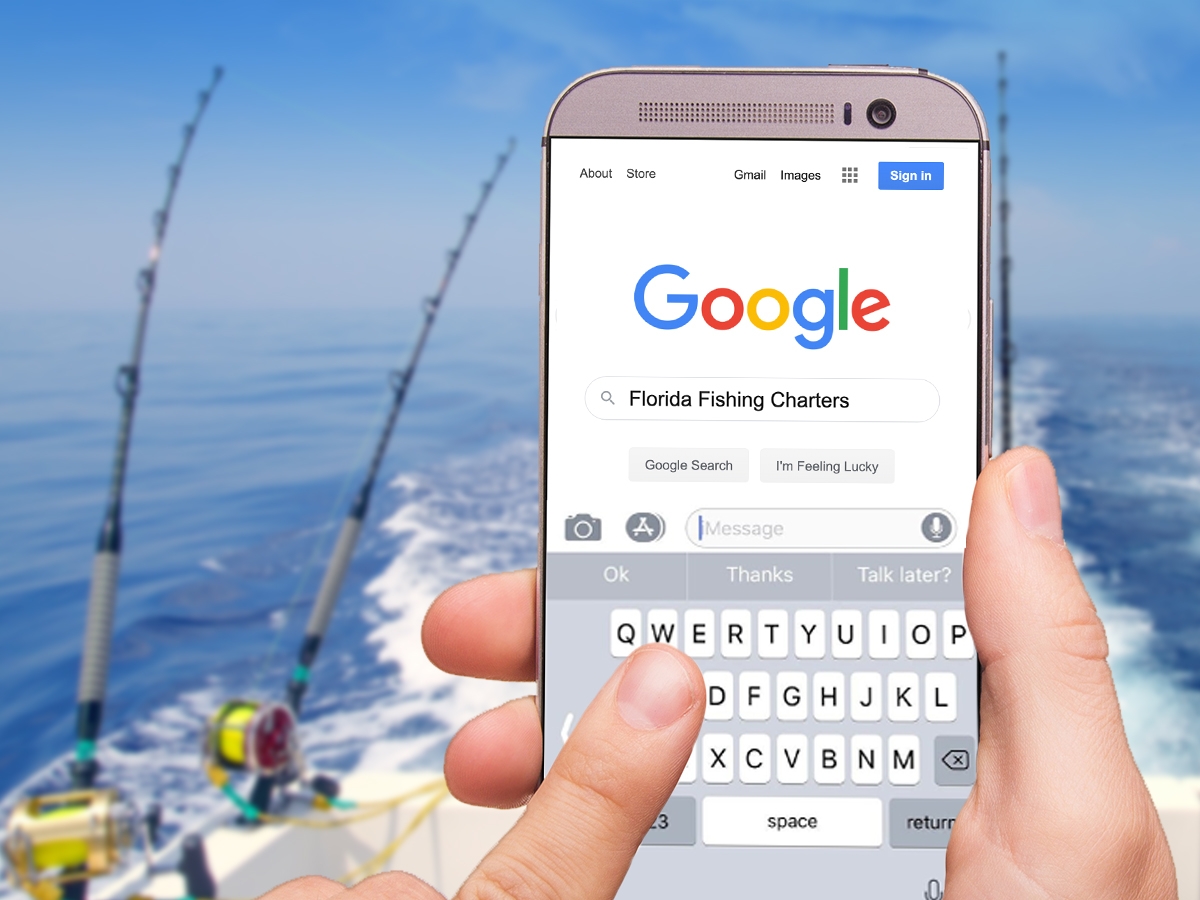 Fishing SEO | 1st Page Google Rankings
One question we get asked all the time is, "Why should I spend money on SEO for my fishing guide service/charter fishing business?". The answer is simple; the days of just creating and maintaining a website and expecting results are gone. If you aren't showing up on the first page of search results with your fishing lodge, it's very unlikely you'll get phone calls and emails that ultimately become sales.
Finding a reliable SEO service provider is very difficult—even if you were okay with spending thousands. There are many pretenders out there that embarrass the whole industry. We honestly feel bad for people who are trying to find a reputable SEO service provider without any kind of recommendation. More often than not, potential SEO clients are forced to take the word of SEO internet companies because they don't know any better. Whenever possible, try to go with a brand name that is associated with real people who recommend the service. 3plains has been providing SEO services for clients since 2006 and has improved fishing website search rankings for many of our fishing clients. We invite you to check out some of our client testimonials and online reviews, or even contact our clients directly if you have any reservations about partnering with us.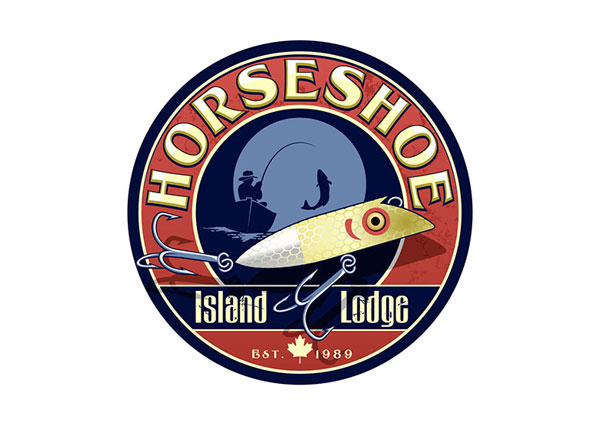 Custom Design Fishing Logos
Branding your fishing guide service is important. That is why when looking for the right fishing logo design professional, you should find a designer is familiar with the fishing industry. Here at 3plains, our design staff knows fishing because we fish, hunt, and enjoy the outdoors just like your prospective clients. We know what logo design styles work for fishing guides and outfitters' logos and what will not. Our logo design experts will work through every critical detail with you to create an original artwork fishing logo that exceeds your expectations.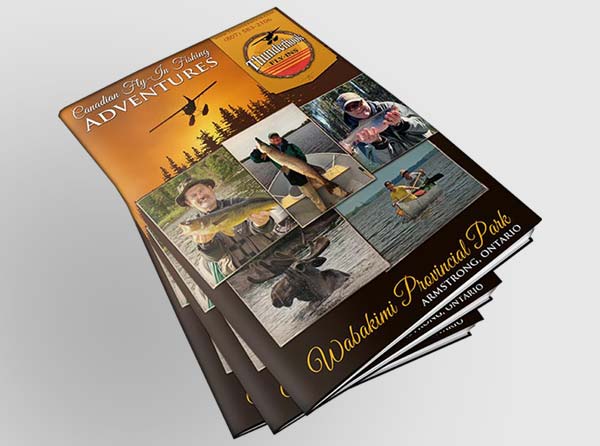 Creative Design: Brochures, Business Cards, Etc.
When you partner with 3plains the same design team who built your fishing website can also transform the same branding assets into custom print promotional items such as business cards, brochures, and industry-specific print media advertisements.
After a client has visited your fishing lodge or possibly spent a day out on your fishing charter chasing saltwater fish, keeping the connection while continuing to build rapport with that client is important. This connection can lead to future business or new business referrals. At 3plains we suggest mailing out a postcard to every fishing client who has booked a trip with you. The more time your fishing logo or brand spends in front of a client, the better your chances are for additional sales and repeat bookings.
Postcards Business Cards Rack cards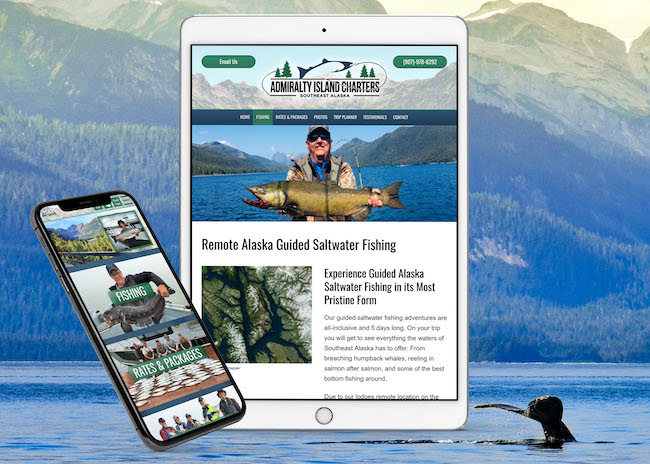 Who is 3plains?
As avid outdoors people with professional marketing and web design backgrounds, we first and foremost understand the outdoor industry and how it works. Secondly, we understand your clientele – the target audience that you are trying to reach in order to sell your goods and services.
We genuinely care about your business and give you creative and constructive feedback to help your operation grow. Let us help you expand the digital footprint of your fishing business on the web and provide you with the tools for financial success. That's our job and our commitment to you.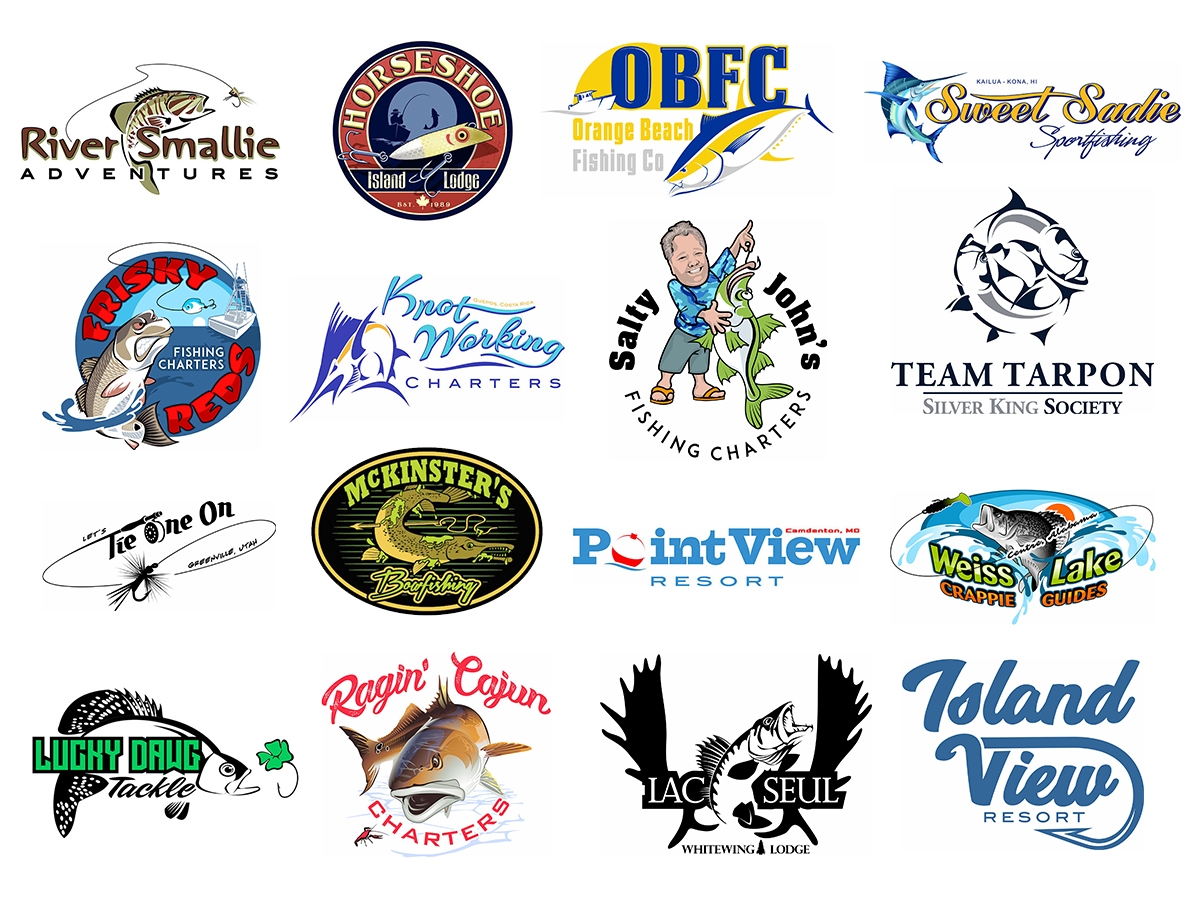 3plains Marketing Services
Whatever species or body of water you fish, we will build and market your website.

Deep-Sea Sportfishing: Albacore, Barracuda, Barred Sand Bass, Bigeye Tuna, Blue Shark, Bluefin Tuna, Bonefish, Bonito, Calico Bass, Corbina, Dorado, Halibut, Leopard Shark, Lingcod, Mako Shark, Marlin, Pacific Mackerel, Sheephead, Shortfin Corvina, Shovelnose Guitarfish, Spotfin Croaker, Spotted Bay Bass, Surf Perch, Swordfish, Thresher Shark, Vermillion Rockfish, White Seabass, Yellowfin Croaker, Silver Salmon, King Salmon, Tuna, Sea Bass, Cabezon, Rock Cod, Sea Trout, China Rock, Bonefish, Permit, Sailfish, Roosterfish, Snook, Jacks, Sharks, Snapper, Mutton, Jack Crevalle, Cubera Snapper and more.
Freshwater & Fly-fishing: Northern Pike, Muskie/Muskellunge, Walleye, Largemouth Bass, Smallmouth Bass, Catfish, Yellow Perch, Paddlefish, Black Crappie, Blue Catfish, Bluegill, Bullhead Catfish, Carp, Channel Catfish, Green Sunfish, Rainbow Trout, Redear Sunfish and more.
Fishing Areas & Regions include Canada fishing, Gulf of Mexico, Pacific Northwest, Pacific Southwest, Alaska charter fishing, Florida fishing, Atlantic fishing, Costa Rica saltwater fishing, Belize, and more.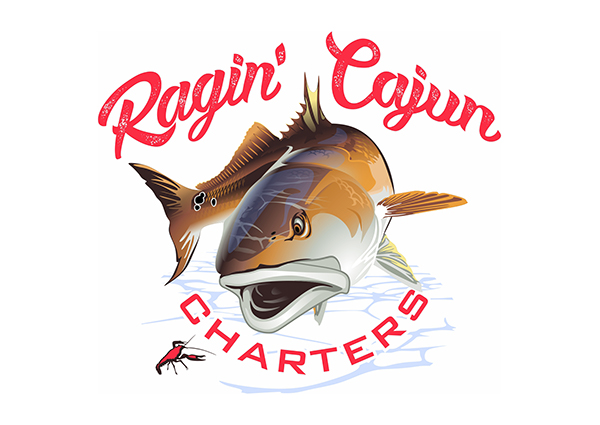 Contact Us for Pricing/Quote
Contact us to get more information, pricing, or to just have a quick conversation with one of our design staff to determine what the best digital marketing options are for your business. When you are ready to talk to us over the phone, here are a few things that will help us understand what you are looking for and ultimately help us determine an accurate cost estimate:
Do you already have a logo/brand designed already for your fishing business?
Are there examples of other fishing websites you like? What is it you like about them? What don't you like? They can be for any industry or other outdoor websites.
For new sites have an idea of what kind of information you would want on individual pages.
For existing sites, what do you want to change?
We bill our hours based on the budget and product we agreed upon with you – we don't pull numbers out of a hat.
We can fit any budget -- whatever you have to spend, we can work with.
Once you fill out the request form, you will receive a call or email back from us within 3 business days. Please be sure to indicate when it is convenient for you to receive a call from us. Call 3plains directly at 612-716-2060.
Contact 3plains