Hunting SEO Services
3plains is an Hunting Organic SEO / Search Engine Optimization company focusing on results for your company. 3plains works with SEO for a variety of companies, including: hunting outfitters, adventure outdoor companies, fishing guides, fishing lodges, recreational outfitters, ranches, bed & breakfast's and adventure travel companies.
SEO for Hunting Businesses
We will help to grow your business through major search engines like Google, Yahoo and Bing. We are currently taking on small businesses in the hunting or fishing industries as part of their internet marketing strategy. Contact us today so we can help get you started, or get you a price quote.
Is Search Engine Optimization a secret?
No. It's hard work -- plain and simple.
SEO is nothing more than hypotheses and conclusions based on trial and error. The problem is, you need a good search engine optimization and marketing professional to make sense of it all. The bottom line - you want an SEO professional that has made a lot of mistakes over the years, and has learned from their mistakes.
3plains SEO
Ryan Trask of 3plains has been working on websites since 1996. He has seen a lot over the years and has had the time to learn from his mistakes. A talented SEO professional is very dynamic, is always willing to try new ideas, and accept new techniques that they can bring to your company's business.
Photo Below: Ryan Trask in Hamill, South Dakota hunting pheasants at Antler Ridge Lodge. Antler Ridge Lodge specializes in pheasant hunting, mule deer hunting, corporate trips, and South Dakota hunting vacations. 3plains has performed SEO, web design, internet marketing, social media work, virtual tours, and photography for Antler Ridge Lodge
3plains specializes in the hunting and outdoor world. It's important that we utilize new processes and search engine strategies to move your company up in the results and bring you potential customers. Call or email us for SEO questions.
SEO Overview
Search engine optimization and search engine marketing are becoming more known to consumers and business people as SEO. It always amazes me when I ask consumers, colleagues, friends, or family using search engines like Google, Yahoo, and Bing about result pages. Many don't even know what SEO is, but understand when they are clicking on the paid vs. unpaid (organic) results. Fortunately and unfortunately, it is up to a good SEO professional to make sense of it all and drive sales to your business, whatever market you are in.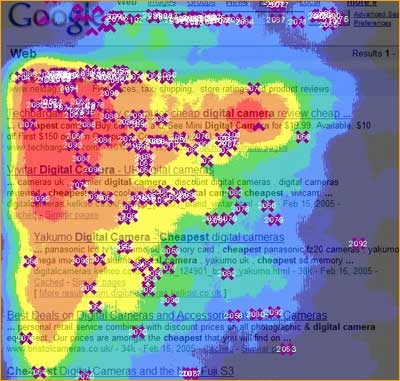 Why is being #1 or being on the first page important? Check out the Google heat map to the right. This map shows the Click Through Ratio of 100 users. So, in layman's terms, you want to be on the first page!
Through years of website marketing, development & many many mistakes, we have acquired knowledge of the SEO process to build your website in the organic search engine results. It is a process, and if you are willing to put in the necessary time, it WILL pay off for you.
Did you know users are 85% more likely to click on an Organic result (free) versus Paid placement? With that said... SEO's are becoming more popular since most users quit looking at Search Engine Result Pages (SERP's) after the first 2 pages.
The SEO solutions we offer to your business should do 3 things for your website:
Generate revenue
Professional online presence
Targeted traffic & lead generation
If you are a pheasant hunting lodge, outfitter or guide and run a hunting website, SEO should bring in that big group if that is what you are looking for. This group below came from a internet search! We know, because we hunted with them. That's Ryan in middle of the bottom row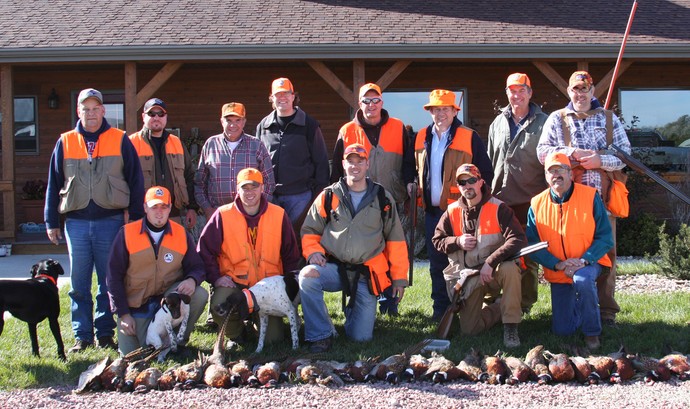 So, if you don't adapt to the search engine game, you are unfortunately losing business.
SEO Example & Testimonial
People ask us all the time, "Let me see some examples of websites you have optimized for." Here is an example of how we have helped one of our customers climb the rankings for a major keyword, as well as a variety of others. Bear in mind that the below keyword has intense competition and currently fluctuates in the top 5 depending on times since Google has over 10+ different servers and results sets. If you want more examples, please contact us and we can show you a few more over the phone.

"Currently, my website comes up on the 1st page for the #1 search term (Google "South Dakota pheasant hunting") for the pheasant hunting industry in the state of South Dakota. And that's for ALL outfitters in the state of South Dakota. On top of that, in the last month alone, I got 4,155 visits from 1,722 UNIQUE keyword searches for an average of over 4 minutes each (industry average is 90 seconds) on the site with 70% of those uniquely new visitors. These guys [3plains] are honest, fair and know what they are talking about."
Chris Hitzeman
Owner/Broker/Guide of U-Guide South Dakota Pheasant Hunting
Our Thoughts on SEO's and SEO Service as a whole
SEO experts are becoming more in demand as competition is becoming more and more fierce. A talented SEO professional is very difficult to find since most work for themselves, own their own websites, or have a stake in other businesses. So, in today's market, accomplished SEO professionals are hard to find... and SEO professionals that solicit you are probably not very good, as a rule of thumb. Talented SEO professionals don't need to call on businesses... businesses will call on them since they are here to help grow a company.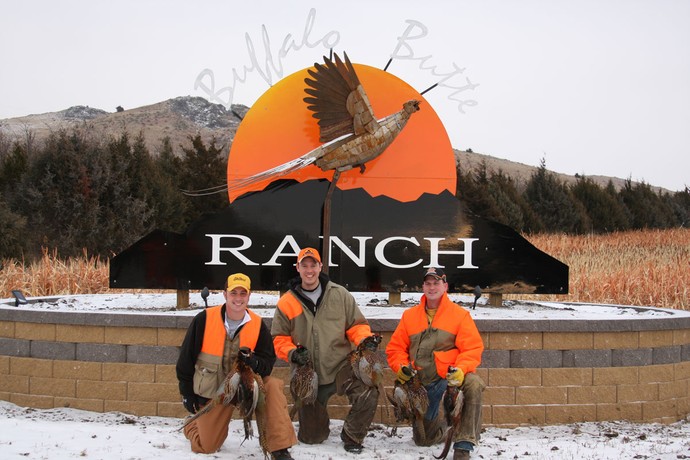 Photo Above: Andy, Ryan Trask & Andy at Buffalo Butte Ranch & Lodge in Gregory, South Dakota. Buffalo Butte Ranch specializes in pheasant hunting, prairie dog hunting, corporate trips and vacations. 3plains has performed web design, internet marketing, social media marketing, search engine optimization and a variety of other services for Buffalo Butte.
Natural Results vs. Paid Results
Good search engine ranking is labor performed by an accomplished SEO expert like 3plains. With paid results or "Search Engine Placement" you are essentially paying to be on top. Please read this article if you don't understand the difference between the Natural Search Engine Results (Organic SEO) vs. Pay Per Click (Search Engine Placement).
The quick facts:
91% of all internet users use search and email on a daily basis.
80% of clicks at Google occur in the organic (natural) search listings.
A PPC visitor costs .44 each
A SEO visitor costs .01 each
SEO is becoming essential for businesses to drive revenue. 3plains is committed to driving your business' revenue through ethical SEO practices.
What does SEO cost?
SEO is a hourly labor process and can be very involved on a monthly/quarterly basis to maintain consistent rankings. You should think of SEO on a monthly or quarterly budget as another form of advertising: Newspaper, magazine, radio, internet advertising, etc.
We can work with you on a fixed budget and we can start small and grow larger as sales and business increases for you.
Contact 3plains
If you have questions on SEO or need a good SEO expert, please contact 3plains today with the below link and we will develop a custom SEO strategy for your hunting business.