Colorado Hunting Outfitter Web Design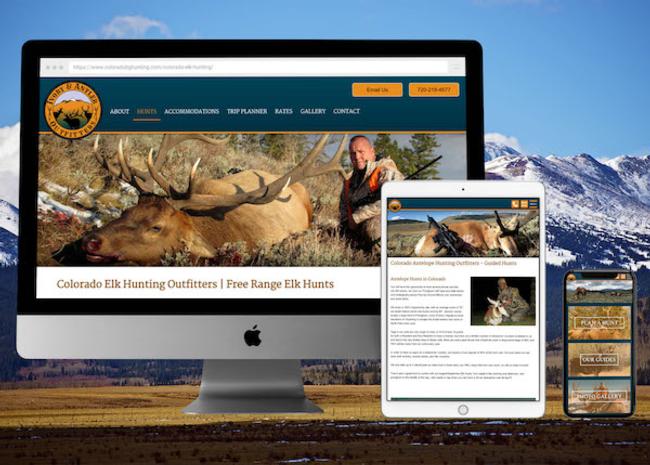 Ivory & Antlers Outfitters hired 3plains for a website redesign, logo rebrand and SEO services to take their outfitting company to the next level. 3plains, was up to the task and 2+ years later, the partnership has been going well. Earl from Ivory & Antlers Outfitters comments:
"Ben, wanted to say thank you to your team at 3plains for all the hard work on our website, in the few months we have been working together we have gone from an average of 200 unique views on our website to over 1,000 in the month of January 2019, in addition the SEO strategies we are working on along with the website initiative are producing a huge increase in both email and phone leads (when asked, everyone is commenting on how nice our website is and how that was the reason they picked up the phone to talk to us), we have already booked 10 clients in 2019 as a direct result of our website/SEO initiatives. Working with a quality partner like 3plains has helped our business in many ways, your attention to detail and great leadership in this facet of our marketing are producing some incredible results in a very shot period of time. Very excited to see where this goes! Thanks to your entire team! - Earl"

Client: Ivory & Antlers Outfitters
Location: NW Colorado
Category: Hunting / Outfitters
Services: Website Redesign, Logo Design, SEO
Description: Nestled in the north central part of Colorado, Ivory and Antler Outfitters is perfectly situated to benefit from one of the largest elk herd migrations in the country. When the aspens begin to take on their fall colors and the morning air has that early fall edge, hunters with Ivory and Antler outfitters are in the field taking advantage of every opportunity to take that long dreamed of bull or buck. Access to the four private ranches totaling over 35,000 acres only adds to the exceptional opportunities offered by Earl and his guides.
View Website: www.coloradobghunting.com
Back to Projects