Kansas Hunting Outfitter Website Design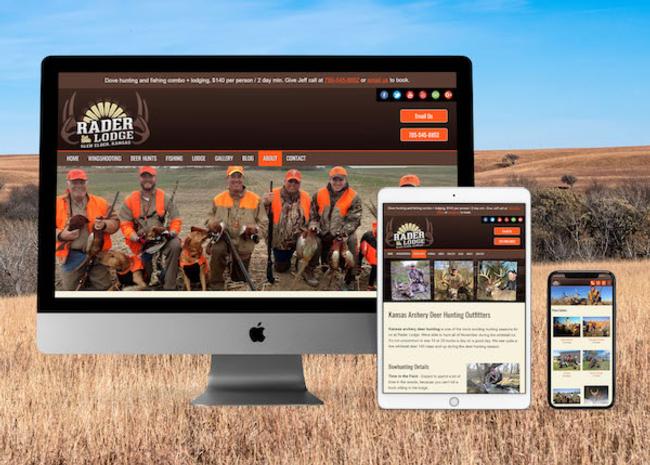 We have built and redesigned the last 3 websites over the last 10 years for Rader Lodge. Comments from Rader Lodge:
I would be the first to admit that website, computers, and technology are not in my skill set. Put me in a field chasing down some rooster, set me up for some walleye fishing on the lake, or even put me on the golf course, I know what I am doing. But the minute I sat down to understand this website and online marketing and how to utilize it for my business, I was lost. I was sinking and needed some help to resurrect my outfitter business. I sought out the best in business. 3plains has helped me in all my marketing aspects from website design, to email marketing and SEO. I have been able to grow my business from a small pheasant hunting guiding service into now offering full pheasant, deer, turkey, quail and waterfowl hunting. Heck we even have expanded my fishing business as well. We even now have the right amount of lodging and private suites to accommodate all my clients during the year! By having 3plains work on all my marketing and website needs, I even send them a blog to be posted at midnight, and by morning my site has been updated! Now I have more time to focus on the important things in life, my clients, hunting and of course golf! Thanks gentlemen, I refer you to everyone!
The 3rd website redesign for Rader Lodge features a nice desktop web design and the mobile breaks down beautifully. Along with how the website breaks down, the call to actions feature a nice fly out mobile menu, book now button, call to action phone button and call to action text button
Client: Rader Lodge
Location: Kansas
Category: Hunting
Services: Custom Logo Design, Marketing, Web Design, Website Redesign
Description: Rader Lodge in Glen Elder Kansas offers 25,000 acres of Prime Hunting Land in North Central Kansas
Website: www.raderlodge.com
Back to Projects