Email Services
A professional email has become very affordable and the storage amount included has become huge. We host all our client's emails on Rackspace® powered servers, which boast the best email provider in the industry. We highly recommend using a brand email (i.e. yourname@yourdomainname.com) so you look professional to your current and future customers. We set it all up for you upon website launch if you don't have a business email. If you have an email, we can migrate your email for you. Read more about the benefits of a professional email address at our blog relating to hunting and fishing outfitters.
Multiple Device Sync
If you have a laptop, a home computer, a business computer, iPad, or iPhone, all of your data will all stay synced up and updated across all of your devices. So easy!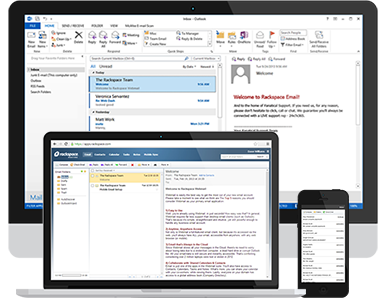 On Your PC Desktop
Works with your favorite desktop software like Outlook®, Thunderbird®, Windows Mail®, or any POP/IMAP client. All of your data is synced up with your other devices automatically.
On Your Web Browser
Manage Email, share Calendars, and access your company email from any web connection with Rackspace Webmail. All of your data is synced up with your other devices automatically.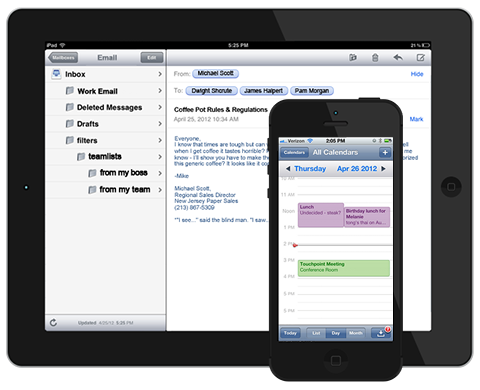 On Your Mobile Device
Check Rackspace Email on your BlackBerry®, iPhone®, Windows Phone®, Android®, or other mobile devices. All of your data is synced up with your other devices automatically!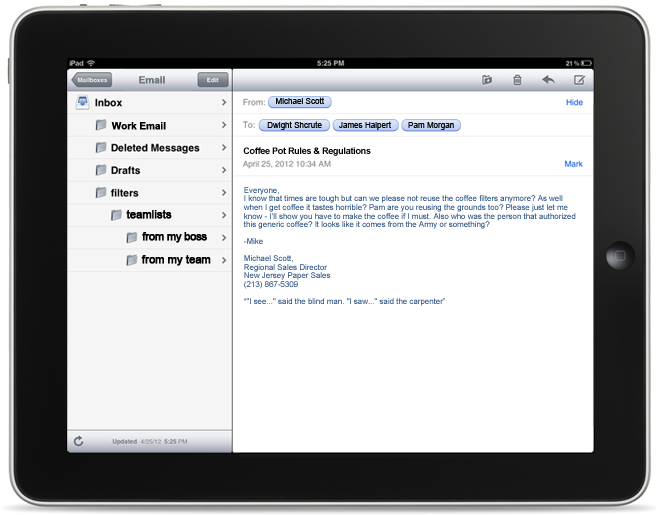 On Your iPad
Check your email on your iPad and sync up your contacts and calendar. All of your data is synced up with your other devices automatically!
Features
Spam & Virus Protection
Each piece of mail is subjected to 3 independent spam and virus scans keeping your systems safe from email-borne threats.
Ad Free/Privacy Protection
Unlike hosted email services such as Google Gmail™, Microsoft Hotmail®, and Yahoo!® Email we don't read your email and we never show you ads.
Administration
Manage your entire hosted email environment including permissions, storage, mailbox creation, and more with just a few clicks using our intuitive Control Panel.
Huge Storage & Attachments
No need to delete anything. Our 25GB mailboxes hold up to 10+ years worth of email. Plus, if you need more storage we can provide however much you need - even 50 MB attachments! Inboxes won't choke on photos, videos, and other large file attachments with twice the attachment size limit of other providers.
Secure Encryption
Latest SSL encryption techniques hide data during transmission so Internet crooks can't abuse your sensitive mail.
Daily 360° Backups
Account data is saved nightly to top tier data center. Email is stored on the server and backed up daily. If your computer crashes, all your email is protected and backed up every night. All contacts, calendar information, task lists, and notes across your devices.
Email Strategies
Here are a few things to think about when setting up your company email address or changing your strategy.
1. Multiple Email Addresses
Tired of checking multiple email accounts online? Using an email client, you can drag and drop emails between that and your company email. You can also link your Gmail, AOL, Yahoo or Hotmail accounts as well into Thunderbird so you can drag and drop files between your current email and your new company email address.
2. Multiple Users/Shared Email
If you have multiple company employees, share computers or share email, our email is a great way to share an email with your company employees. For example, if you have 3 employees you can share info@mycompany.com with all of your employees vs. having 3 separate emails. It can work great if you have part-time employees or employees that don't check their email often.
Migration Help
How do I move (migrate) all of my emails to a new email address? Call 3plains at 612-716-2060 and we will help.
Save