Hunting Fishing Supply Logo Design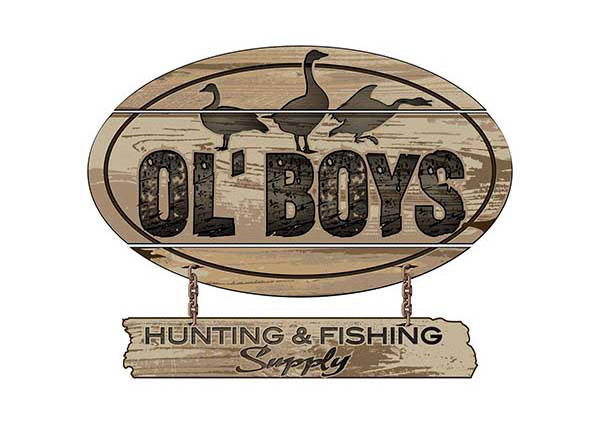 Notes: Professional black, brown, gray, wood, log cabin-esque, burnt, rustic county-ness type logo.

Comments: I'd like something that incorporates a symbol, that I wont always have to use the text with, superimposed maybe but not invisible or easily forgot. My vision for the store front sign is something almost like a log cabin, missouri river style - Oval style cutout for OL BOYS and a rectangular cutout for Hunting & (not and) Fishing Supply which is hung by chain. A burnt feel to the text would be nice, but standouts at 100 + yards as folks are coming down the highway. Something warm yellow light reflecting off the sign at 3 oclock in the morning just says come get a free cup of coffee and anything you might of forgotten to water fowlers. A logo that you know if you saw outside a shop, would have an old lab greet you as you came in the door. Thats what I remember when I was a kid.

Business: OL' BOYS Hunting & Fishing Supply LLC
Owner: David Donahue
Category: Hunting & Fishing
Services: Custom Logo Design
Description: OL' BOYS Hunting & Fishing Supply LLC is a place where an outdoorsman can find quality hunting and fishing gear, is welcome to sit and have coffee and tell fish stories, a place that is not only interested in the customers pursuit-whatever it may be, but cares about it too.
Back to Projects