Eastern Colorado Plains Hunting Outfitter Website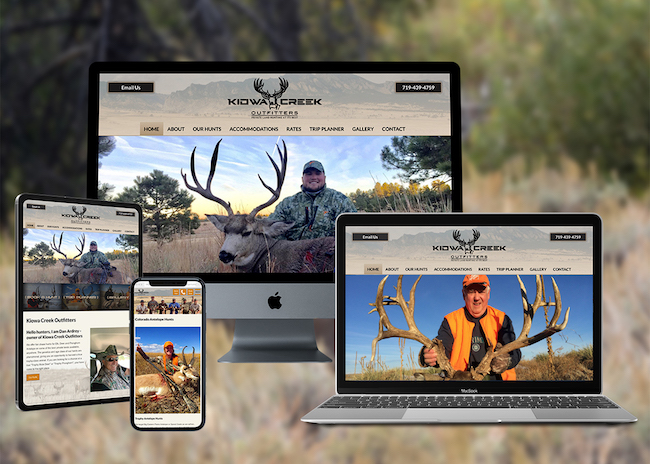 The Ardrey Family provides world class, fully outfitted fair chase private land hunting opportunities in the Eastern Plains of Colorado just off the I-25 corridor between Denver & Colorado Springs. With access to over 60,000 acres of private hunting land, Kiowa Creek Outfitters is a group effort between friends and their families drawn together by their shared passion of the outdoors and guiding. Hunting is not just a hobby for this crew; it's a way of life.
In the middle of the 2020 hunting season, this tenured hunting operation reached out to us in search of a new web design partner. Their current website service provider was discontinuing the product that they had been using for a number of years, and they needed to find a new website product that allowed them the flexibility to update their own site content.
With dedicated support from "The Mom in the Mom & Pop Operation", Mrs Ardrey and the 3plains team were able to produce a brand new hunting outfitter website in as little as 43 days during peak season. As and unexpected bonus, our logo design team was also able to create a newly rebranded logo that incorporated Kiowa Creek Outfitters' original mule deer icon logo with an updated, modernized font.
Client: Kiowa Creek Outfitters
Location: Elbert, Colorado
Category: Hunting
Services: Web Design, Logo Design
Description: Guided Eastern Colorado plains hunts for elk, antelope, mule deer, whitetail deer, and Merriam turkey with access to over 60,000 acres of pristine private hunting land.
Website: www.kiowacreekoutfitters.com
Back to Projects