4 New Cool Hunting and Fishing Logos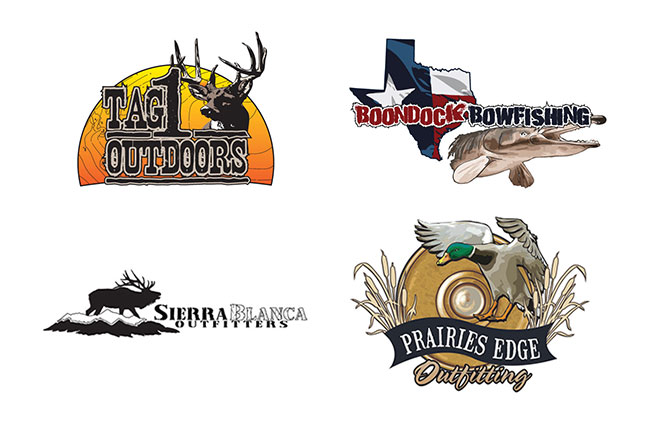 Check out a few of our latest logo creations.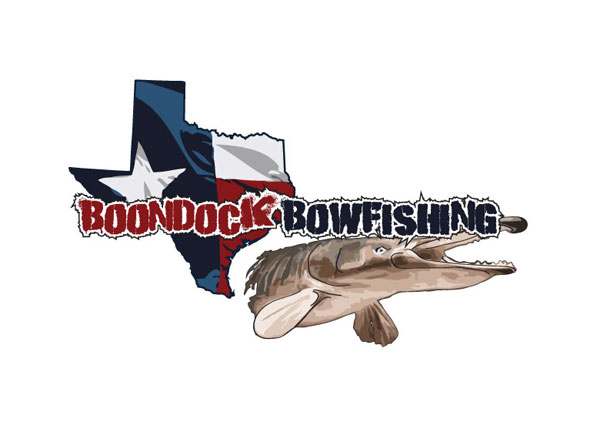 Fishing Logo Design for Boondock Bowfishing
Boondock Bowfishing started with a standard list of brainstormed ideas from the client Marshall Cole, and quickly boiled down in the sauce pan to what you see here. Marshall wanted to include the state of Texas, the Texas flag, and an Alligator Gar Jumping out of the water, preferrably on the eastern side of the state where Boondock Bowfishing hails from. It sounded like a lot to ecorporate at first, so my initial thoughts were to simplify and combine.
Once the Texas flag was traced down to a few solid colors from a great photographic reference placing it inside the outline of the state seemed obvious. It also gave us great bold colors to use for the name of the company.
Adding the alligator gar came down to good reference and drawing to focus on the teeth, and make the fish look mean. I wasn't confident we could convey these traits in a jumping fish, nor was I confident we could create an alligator gar jumping realistically without any good references. Showing only a portion of the fish seemed to pair nicely with the curve of the eastern side of the state for positioning, and allowed us to keep the fishing logo concise, and simple instead of trying to balance many different elements floating in open space.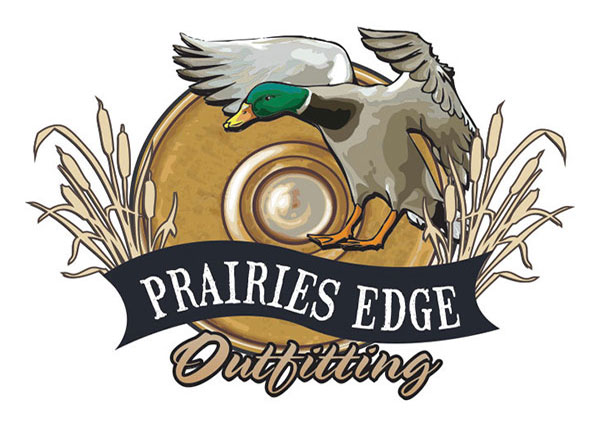 Waterfowl Hunting Logo Design for Prairies Edge Outfitting
Prairies Edge Outfitting operates out of Alberta Canada, and focuses on waterfowl hunting. Mike McClane originally wanted to incorporate a 12 gauge shell, cattails, and a Canada goose, or mallard drake landing.
It occurred to us that the circle of the shell would make a perfect back drop for the imagery of the bird, and that we could frame the bird and the company name with cattails and grass mirrored on each side. After some initial searching and correspondence it became clear that we really wanted to use the mallard drake instead of the goose, for the brighter bold colors its feathers, beak, and webbed feet highlight. The "Prairie's Edge" banner was created as an asymmetrical balance to the mallard which is also asymmetrical. The mallard itself was drawn from photographic reference, then digitally painted and outlined by hand specifically for Prairie's Edge.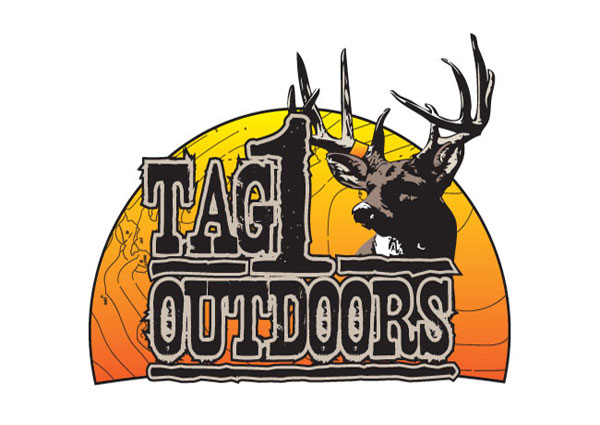 Deer Hunting Logo Design for Tag1 Outdoors
Craig Pavlosky sent us a very detailed sketch of his ideas for a Tag 1 Outdoors logo. In it he highlighted the whitetail buck, a half circle backdrop, trees, topographic maps, and a compass. He stated that he liked the color yellow, which in many states is the color of a deer tag.
Because Tag 1 Outdoors is developing an innovative digital solution for hunters largely focused on maps and navigation we focused on simplifying Craig's initial sketch to incorporate the whitetail deer and the topographic map.
The deer itself was referenced from photographs and traced down to black and white, then hand colored digitally. We added a tag, and then used the half circle background as a backdrop for the company name, and outline for the map. Adding a strong orange to Craig's yellow gave us a nice contrast to the bold rustic lettering, and introduced a familiar hunting color.
The end result is a very focused and striking solution that was born from simplifying and strengthening Craig's initial thoughts and sketches.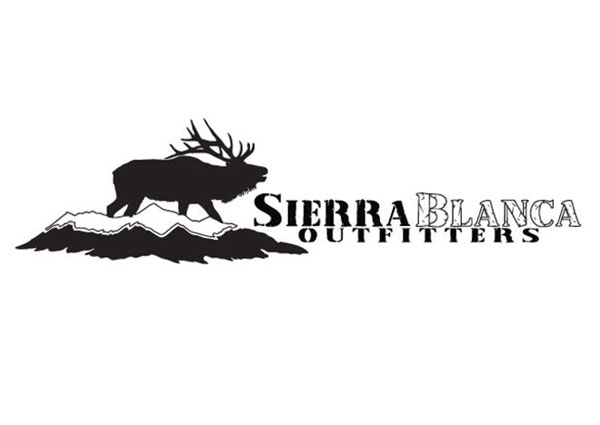 Elk Hunting Logo Design for Sierra Blanca Outfitters

Owner Pete Romero approached us to design both a custom logo and custom website for Sierra Blanca. It seemed fitting to highlight the name of Peter's business in the logo with white capped mountains, and Pete wanted us to include a bull elk, so we silhouetted his elk, and created some rustic weathered text to match the jagged edges of the mountains and the remote New Mexico hunting atmosphere.
Posted in: Logo Design, Branding