Quality Website Traffic + Leads = Bookings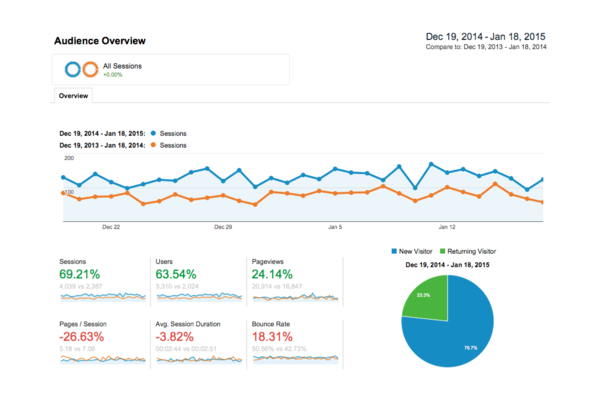 In 2011, we began a SEO campaign for a customer. When we first started working with the customer a few years back, they were under the assumption being #1 in the search engines is the end-all-be-all. We obliged and began the campiagn.
Starting The SEO Campaign
We tweaked the campaign over the years and put our due diligence into the SEO campaign. As algorithms changed, the labor and tricks turned into a giant waste of time and resources as Google and other Search Engines rolled out new updates.
New Marketing Campaign and Strategy

In 2012, we scrapped the SEO only campaign and did a business audit. We asked specific questions to determine the type of clientele they wanted and figured out a strategy to fill the inventory of hunts they ultimately wanted to book. 100% bookings was the goal for this customer, so it was time to scrap what we were doing.
Sustainable Marketing Strategy
I convinced the client to start a new healthy sustainable marketing strategy and decided not to waste any of my efforts on short term gains. I decided to enter the marathon and exit the sprint.
I was met with resistance but the client was open minded after I explained it. The client still didn't quite understand what I was going to do even though I had it all detailed on a 8 page document I sent. The client trusted me, which I really respected the client even more.
We marketed hard and planted seeds in the Spring of 2013 and tended to our crop all season (I like to explain marketing like farming). During 2013 and into 2014, low and behold we started harvesting our leads and converting them into bookings.
Traffic Increase

Our new marketing strategy produced a nice increase of quality traffic. Take a look at the website analytics photo above in this blog. This graph was from a a 1 month period from Dec, 19 2013 to Jan 18, 2014 and compared it to Dec, 19 2014 to Jan 18, 2015. Here's the results:
Website Sessions up 69.21%.
Website Users up 63.54%.
Pageviews up 24.14%.
The traffic was not only quality traffic, but the type of website visitors our client wanted to book. We were not looking to send website traffic that wouldn't book or was just a waste - this is targeted and quality traffic.
Leads Increase

We generated over a 75% increase in internet request forms in a year over year 2013 to 2014.
In the period of Dec, 19 2013 to Jan 18, 2014 to Dec, 19 2014 to Jan 18, 2015, we generated a 213% increase of internet request forms.
The client didn't report the increase or decrease in phone calls since it was not tracked, but if you extrapolate the data, then more than likely those increased significantly too. Call tracking software will help metrics on that if the client moved to call tracking.
Conversion Rate

In the end, quality traffic produces leads which produces bookings and revenue. It's all a numbers game at the end of the day. Example: If you have 100 leads and are closing 5 of them, you have a 5% conversion rate. Tracking conversion rates are very important - in fact, I wrote a trade show tips blog post in which I talked about how to track conversions at trade shows.
The Social Media Trap (ie Facebook)

Before the new campaign started, the client fell into the Social Media trap as I call it.
Social Media Trap Defined: A high number of our clients update their Facebook page over their website and wonder why they are seeing poor search engine results. The fact is, if you are updating your Facebook, Twitter, Instagram, etc., you are making their websites more powerful and not your own. I'm not saying they are not important, but you really need to push the message FROM your website and not FROM social media.
So invest in your own business and come up with a strategy to update your own website. View a blog I wrote on investing in your website over Facebook.
Action
We recommend figuring out what your budget is or what you want to spend annually and we will figure out how to spend those dollars effectively. If you can, move your marketing dollars around and be sure to carve out online marketing into your budget. It's important - Just look at the numbers we can move if you are motivated to up your game.
Posted in: Uncategorized, SEO / SEM, Content, Marketing