Why You Shouldn't Do Searches For Your Google Ads or Search Your Own Keywords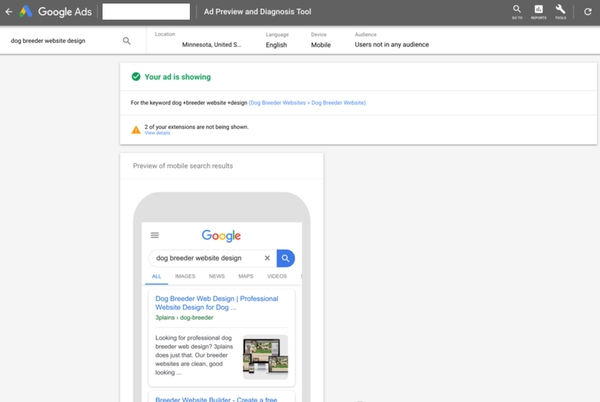 Why You Shouldn't Do Searches For Your Google Ads or Search Your Own Keywords.
1. DON'T CLICK ON YOUR GOOGLE ADS!
This may seem obvious but if you search for your ads, STOP DOING IT & do not click on them. You are depleting your ad budget and hurting your quality score, which will increase your cost per click. When you click on your own ad, without spending a significant amount of time on your website or close the window, it hurts the quality score of your Google Ads account and the Ad Rank for your ads.
2. Click Through Rates Will Decrease
Click through rates will decrease when you view but don't click on your ad. Click through rate is an important metric that Google uses to determine your quality score and Ad Rank. When someone searches one of your targeted keywords, in this example it's you, and does not click on your ad, Google gets the impression that the ad is not relevant to the search term. When you search your own keyword and do not click on the ad, it decreases the click through rate for that ad.
3. Your Ads May Stop Showing
Depending on your account settings, if you continue to search for your ads without completing any conversions or clicking on ads, Google may stop serving ads to your IP address.
If none of these factors dissuade you from searching for you Google Ads keep in mind that you are probably not getting an accurate picture of your campaigns. Settings within your account; geographic, demographic or budgetary targeting may offer you a limited snapshot.
How Can I See My Ads and How they appear in Search?
If you would like to see an accurate depiction of your Google Ads and how your campaigns are performing, 3plains offers detailed monthly reporting. To view individual ads that are displaying for specific keywords, you can use the Google Ad Preview and Diagnosis Tool.
To use the ad preview tool, or to view a ad preview sent by your Google Ads manager, you will need to be signed in to your Google Ads account. If you are not familiar with signing in to your Google Ads account, your 3plains Google Ads manager would be happy to send you a screen shot of the Keyword Search and Ad that is being displayed.
Posted in: SEO / SEM