Dog Breeder Website Design and Marketing
Looking for professional dog breeder web design? The dog breeder marketing professionals at 3plains specialize in doing just that! Our mobile-friendly dog breeder websites are clean, good-looking, easy to navigate, and search engine friendly so that your business can generate and capture internet leads and drive puppy sales. From website design to software development, logo designs to marketing we offer it all.
Founded and led by software developers, 3plains has developed a custom dog breeder content management system (CMS) that allows you to easily update & manage your adult breeding stock, puppy & litter information, mark your puppy inventory as reserved or sold, and accepts deposits online by utilizing your PayPal account. Information for all of your past & current adult dogs, puppies, and litters are all conveniently linked together with our custom dog breeder website software, which provides site viewers with an in-depth glimpse of your high-quality dog breeder business.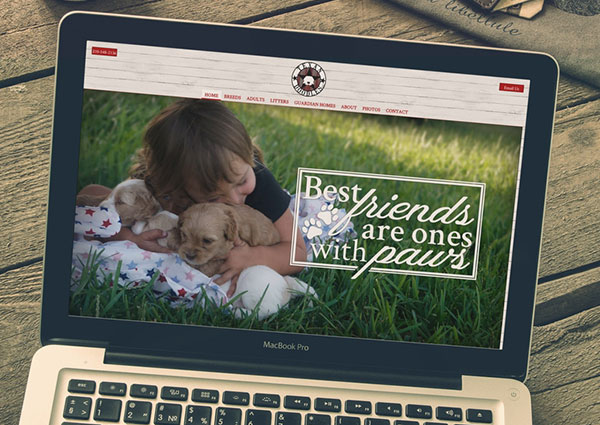 Dog Breeder Responsive Web Design
Set your dog breeding business and website apart with a custom, professional dog breeder web design from 3plains, and dominate your competitors on the internet. Having a professionally designed dog breeder website is key in today's marketplace, as it directly reflects your website image and your sales. People judge a book by the cover on the internet, and clients providing the best "Furever Homes" do their homework when evaluating where to adopt the next 4-legged addition to their families. Your job is to make sure your dog breeder website is not only aesthetically pleasing visually, but also functioning as a professional revenue generator. Your dog breeding business and website need to be set apart from all the other thousands of dog breeder websites, and the only way to achieve that is to have a custom-designed dog breeder website. We can work with you to achieve this high-quality professional design, and provide you with the digital tools necessary to effectively compete online against other dog breeder websites.
Here are a few of the many sample dog breeder websites that we have designed. Please take a look and click through them: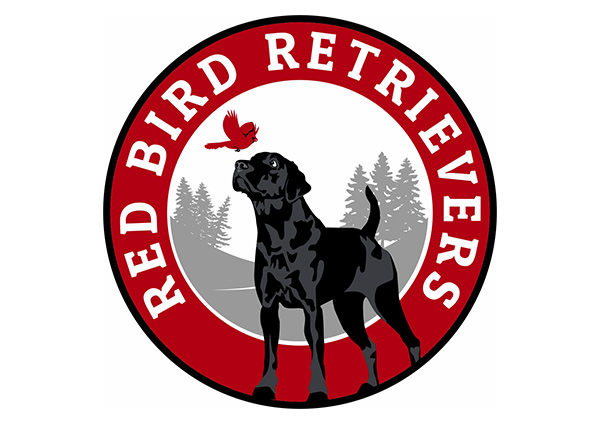 Logo Design for Dog Breeders
Do you need a professionally designed logo for your dog breeding business? Whatever you need or whatever your idea is for a logo, we can create it. Come up with a crude sketch or provide images of specific dogs that you'd like to feature in your logo design, and we can take your idea and make it happen.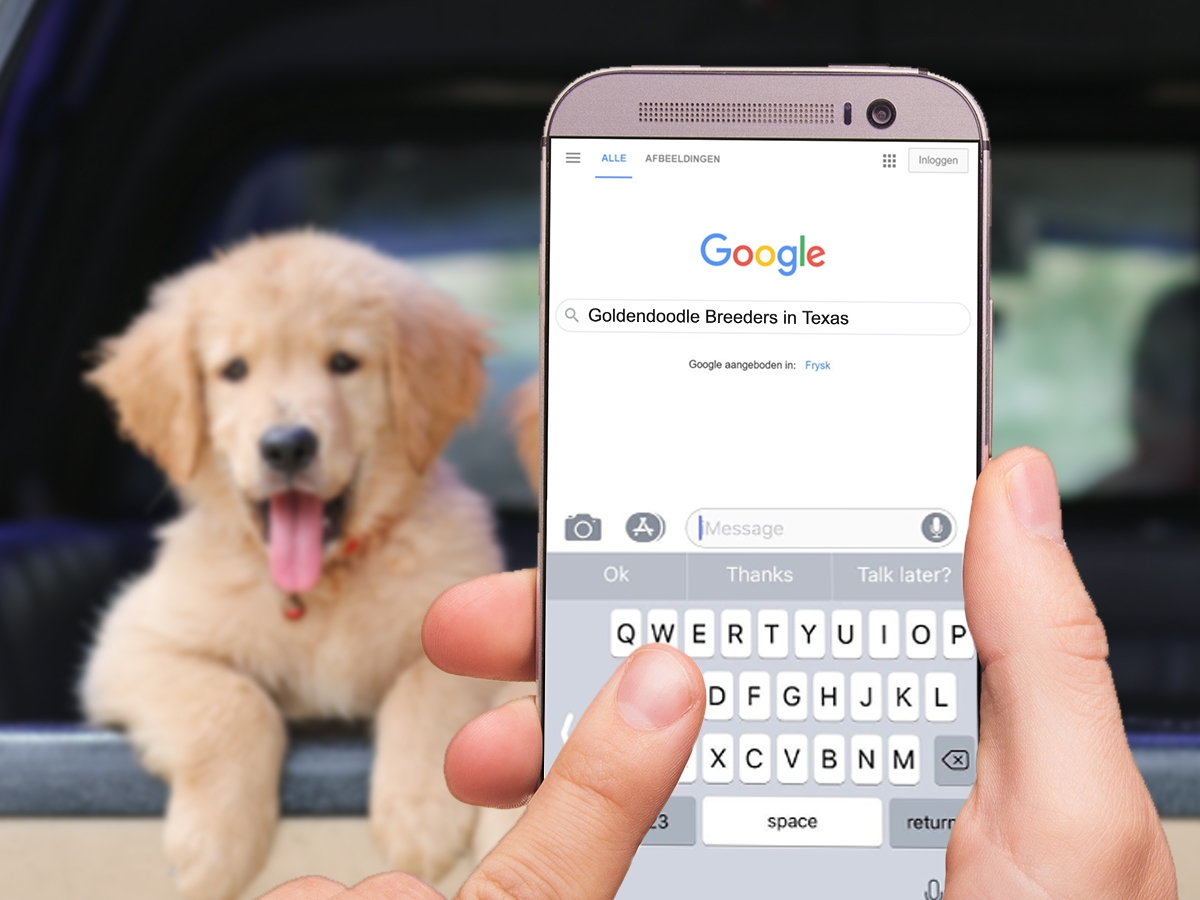 Search Engine Optimization (SEO)
Why is SEO important for dog breeders?
In the late 1990s and early 2000s, it was a lot easier to market your dog breeding business online due to the lack of internet competition from other dog breeders. With internet market saturation and an influx of new dog breeders in the marketplace, challenges that apply to SEO marketing techniques have only heightened the need for a high-quality dog breeder website. How will your business and your premium quality dog breed standard part from the rest? Your GSP's, Labradors, Goldendoodles, or whatever breed you're selling maybe some of the best money can buy, but how will the average consumer know this? Why will they buy from you?
Is having a dog breeder website enough?
In short, no. Just because you have a website doesn't mean it will be found and drive sales. Over 90% of search traffic comes from the first page of Google search results and a high percentage of that traffic comes from the top listings. Map listings are becoming increasingly important in successful SEO campaigns as well.
At 3plains, we work with you to create a marketing campaign designed specifically for your business.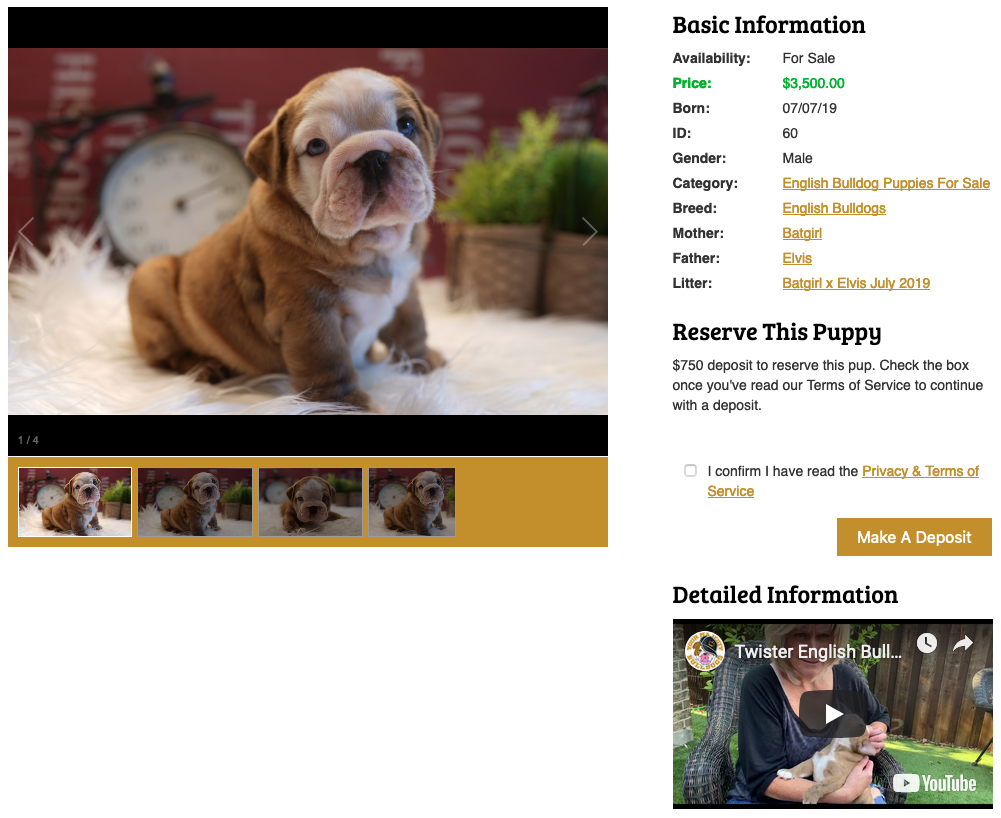 Our Dog Breeder Specific Website Software
With our custom content management software, you are able to update puppies for sale, started dogs for sale, add your mature dogs, mothers, sires, litter management, and current dates of updated litters. Our dog breeder content management system makes it easy so you don't have to be an ultra-techy to figure our system out. Our system is very simple and to the point. It's great because you don't need to call us to make simple changes anymore. You're actually able to manage all the content on your website, and we have specialized modules for puppies for sale, started dogs for sale, litter management, updated litters, customer photo gallery as they pick up their pups, blog tools, articles, or anything else you feel fit.
For example: when you have an expected litter on the way, you will take a photo of the litter, put it on the website, select the mother, select the sire and add an expected date. We can put your site liter information, colors, the number of puppies, and puppy deposit information. As the puppies are born, and the eyes open up, you will take photos of the pups, and upload each individual pup to the website of assigning them with a litter. As customers buy the pups, you can add information like sold price, sold location, and take a picture with the family and their new purchase. This will add that personalization to your dog breeding website. In addition to these dog breeding website tools, you are also able to add as many pages as want to your website.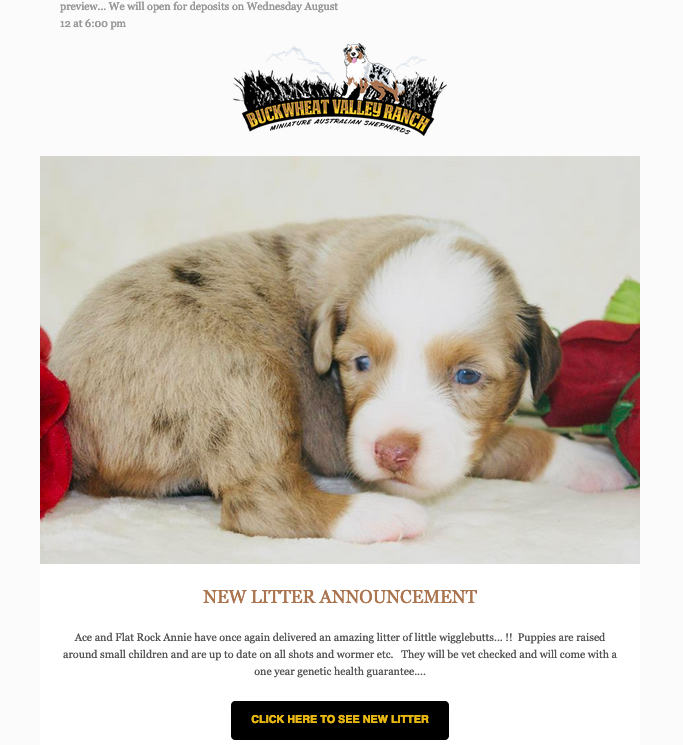 Email Marketing for Dog Breeders
One of the most popular marketing services that 3plains provides for our dog breeder web design clients involves the creation and implementation of an email marketing strategy to announce new litter availability.
By utilizing the lead information that has been captured through the contact form on your custom 3plains dog breeder website, you have to ability to reach out to anyone who has ever submitted their information to your business after reviewing your website content.
As your dog breeder business expands, you will soon discover that demand for your family-raised, well-socialized genetically proven dogs typically exceeds the number of puppies available from any given litter. It is important that you have a marketing tool that is capable of keeping your dog breeder brand in front of anyone who has expressed interest in your business. This is especially true when promoting new puppy availability to anyone who may have missed out on adopting a puppy from your previous litters.
When designed correctly, email marketing is a powerful, cost-effective tool used to stay in touch with leads who have expressed interest in making a purchase with your business. The dog breeder web design pros at 3plains are here to help develop an email marketing strategy that will allow you to receive deposits on new puppy sales faster than ever before.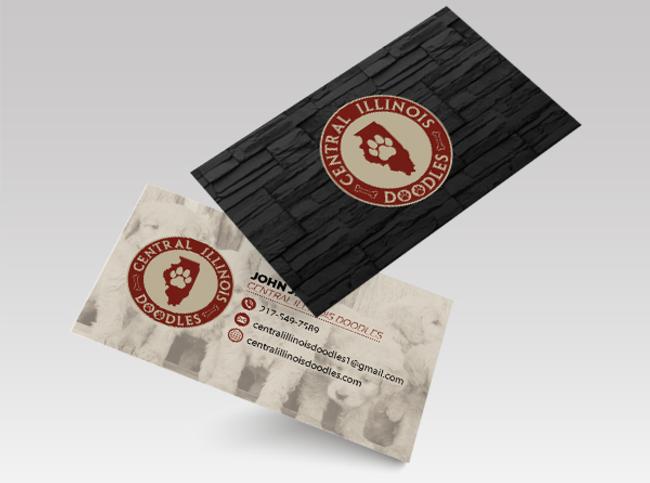 Print Design
When you partner with 3plains, the same design team who built your dog breeder website can also transform the same branding assets into custom print promotional items such as business cards, brochures, and industry-specific print media advertisements.
One of the greatest challenges of implementing any marketing strategy is maintaining brand consistency in your messaging. Match your sharp-looking dog breeder website with your promotional print products, merchandise, and logo! Brochures, postcards, business cards, decals, online ad design, traditional ad design, and rack cards. View examples below.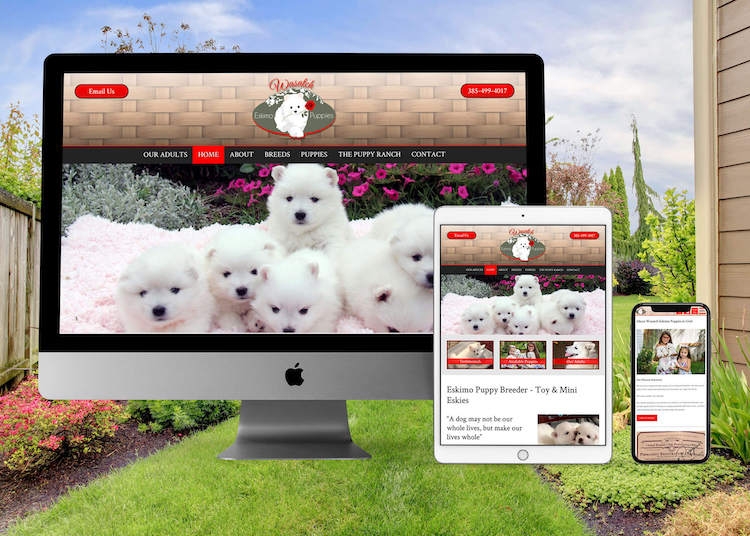 Contact Us
Contact 3plains to begin working on your new dog breeder website project today! We have helped produce dog breeder websites for a variety of small dog breeder businesses and can customize your new dog breeder website to attract the ideal type of clientele & adoption homes who express interest in placing a deposit on your puppies.
We do not discriminate against any type of dog breed and are here to help your dog breeder business with a web design and marketing strategy that best suits your needs. Stop wasting your hard-earned money listing your premium puppies through big-name puppy adoption directories with questionable sellers and reviews, and start competing against those same mega breeder sites by partnering with 3plains.