Job Scams
Job scams are nothing new. That's why there is a whole FTC website on it: https://consumer.ftc.gov/articles/job-scams. It's 2022 and job scams are on the rise. Take a look at a recent 22-year-old who got scammed.
We have received several phone calls and emails asking if we know about this scam. Again, this is nothing new. Let's apply a little common sense here and take a look at the email and documents.
Did you follow our careers page instructions after applying?
The email comes from careers@3plains.us. Our domain is www.3plains.com and not www.3plains.us. The website goes nowhere and to a Namecheap account.
You can actually look up WhoIS information on 3plains.us. The domain is registered to "James Bond" at 165 Pleasant Valley Rd McDonough GA 30253.
Tony Cross does not work here and our legal name is not 3plains LLC. You can look this up at any state organization with a simple business lookup. Look us up or click here to view our legal information since 3plains is a DBA and not a LLC.
View the PDF attachments below. Just view how ridiculous they are.
No one should send bank account information to anyone without a phone conversation.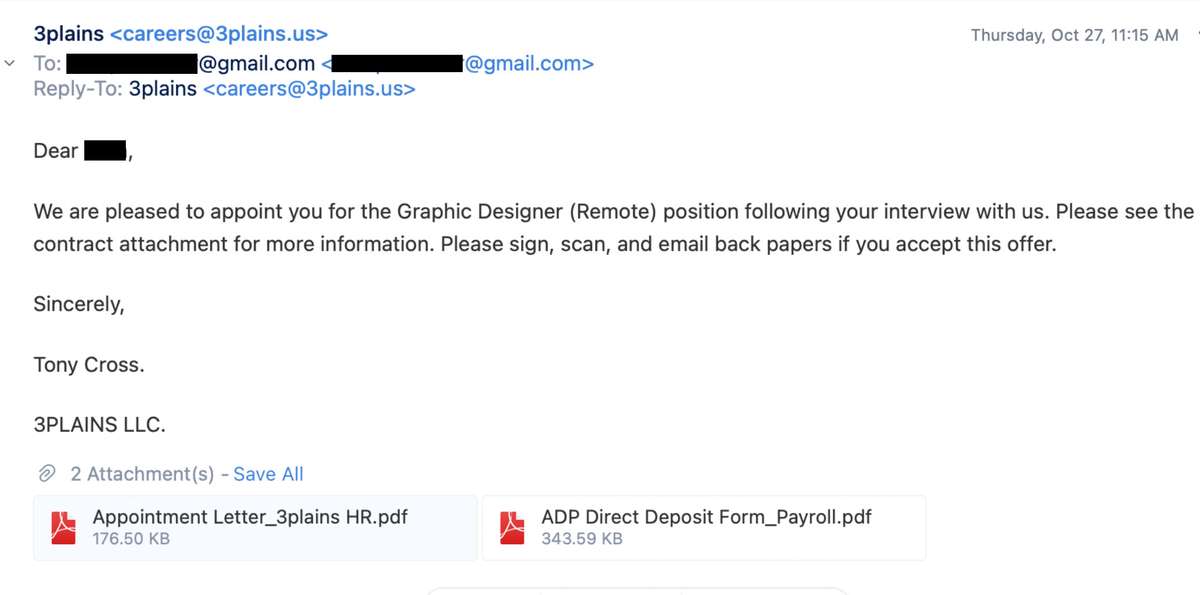 Attachments
In conclusion, apply common sense. If it looks like a scam and smells like a scam... it probably is.
Still need help or don't want to DIY?

We have maintenance service and website update packages available. Please fill out a ticket and a 3plains representative will reach out to you with details on pricing and packages.
Back to Technical