>
>
>
Website just launched and can't find in Google
Website just launched and can't find in Google
There are several questions we get when a website first launches and most questions are related to the search engines or why no one can find your website after you launch. Before we answer these common questions, it should be noted that 3plains nor anyone (besides Google) can not control how search engines work. However, there are certain things we can control about your website and how it shows up in Google at any given time.
Q1. I Google my business name in Google and it says "website coming soon", why is that?
A: Google and other search engines take time to work. Check back in Google in a few days to a few weeks and your website will more than likely have propagated through the search engines and Google will be showing the proper meta results. If you want to do more reading about the Google Recrawl process, you can read more at Google's help area.
Q2. I Google my business name in Google and we are not showing up #1 or even on the first several pages in Google. How can we not show up for our own name?
A: Read Q1 above as that is the same explanation. In a few weeks to a few months if your listing is still down in the results, you may want to contact 3plains and look into our marketing packages.
Q3. I did a Google search for the phrase (XYZ Keyword Phrase) and could not find my website. Why is my website not showing up in Google and/or other search engines?
A: If your website is brand new and not a re-launch of a existing website, Google and other search engines will take some time for your website to show up in the search engine result pages (or SERPS). This is perfectly normal.
I explain it to customers like this. Launching a brand new website, is no different than launching a brand new business in the middle of desert and putting up a sign open for business. No one knows you exist, nor will any traffic drive by and see your sign that you are open.
Now, if you want to show up on the first few pages for key search terms (ie "South Dakota Pheasant Hunting", "Alabama Deer Hunting", "Kentucky Whitetail Hunting", "Colorado Elk Hunting Outfitter", etc.), this process is called organic Search Engine Optimization or "Organic SEO". Organic SEO is one of the most misunderstood services in the industry today. You can't just launch a website and be #1 in Google for a key search term. If it was that easy, everyone would be #1.
Building a website alone won't solve that either. A professional company like 3plains will build out a website design and perform the service of "on page SEO" process. On Page SEO" differs from "Off Page SEO". On page SEO is performing SEO services on your website and Off page SEO is performing SEO services off your website. The SEO process is not as simple as it sounds. You can read more about that here. If that's not good enough or you want to speed up the process, we highly recommend PPC services to start generating leads right away in Google.
Q4. There is incorrect information in Google and/or other search engines. How can I change it?
A: View the below example (Figure 1). You will see a Meta Title and a Meta Description. These can be changed on your 3plains Online Portal if you don't like them. If you read the first question above, you will know Google does takes some time to work, index your website (ie find it) and update the information. So if you see data you don't like, it's just old and Google will visit your website in the coming days or even weeks and will update it. If you have urgency on this, please let us know and there are steps we can take to help.
Figure 1: Google SERP Example when you google our company "3plains"

Q5. My site is not showing up the first page for certain keywords in Google. Why am I not on the first page?
A: This is called "organic SEO" or Search Engine Optimization. Your website is not showing up because your site is either brand new, needs additional content, a variety of other algorithmic factors, or needs to be placed on a marketing service plan of some kind. Please call us if you need additional help showing up higher in the Google results or read more on SEO here.
Google takes a lot of what your website provides in the terms of rankings. Back in the day, simply placing a website up and adding a few links you could dominate and manipulate the rankings. Google realized this and people capitalized until Google made the changes. Now think of Wikipedia. Why does that website come up so often when you search many terms? Because the content and information on the website makes it relevant to the term that was placed in the search.
For example, Colorado Mule Deer Hunting Guide - We see this for the top rankings. Some things that come into play is, the content on the website - talking about mule deer hunting in Colorado - talk about areas around that they hunt, talk about a typical hunting experience, talk about the tools used to hunt. All of this Google starts to like. As well some of these rankings can be attributed to domain age. Meaning a few of these clients look to register their website back in the early 2000's or late 1990's. Since there was not much out there at that time, if you registered a domain in say 1999, Google found that if you are around that long, you must be doing something right.
You can also read a few articles we have written about website content, the importance of it and a few other SEO articles: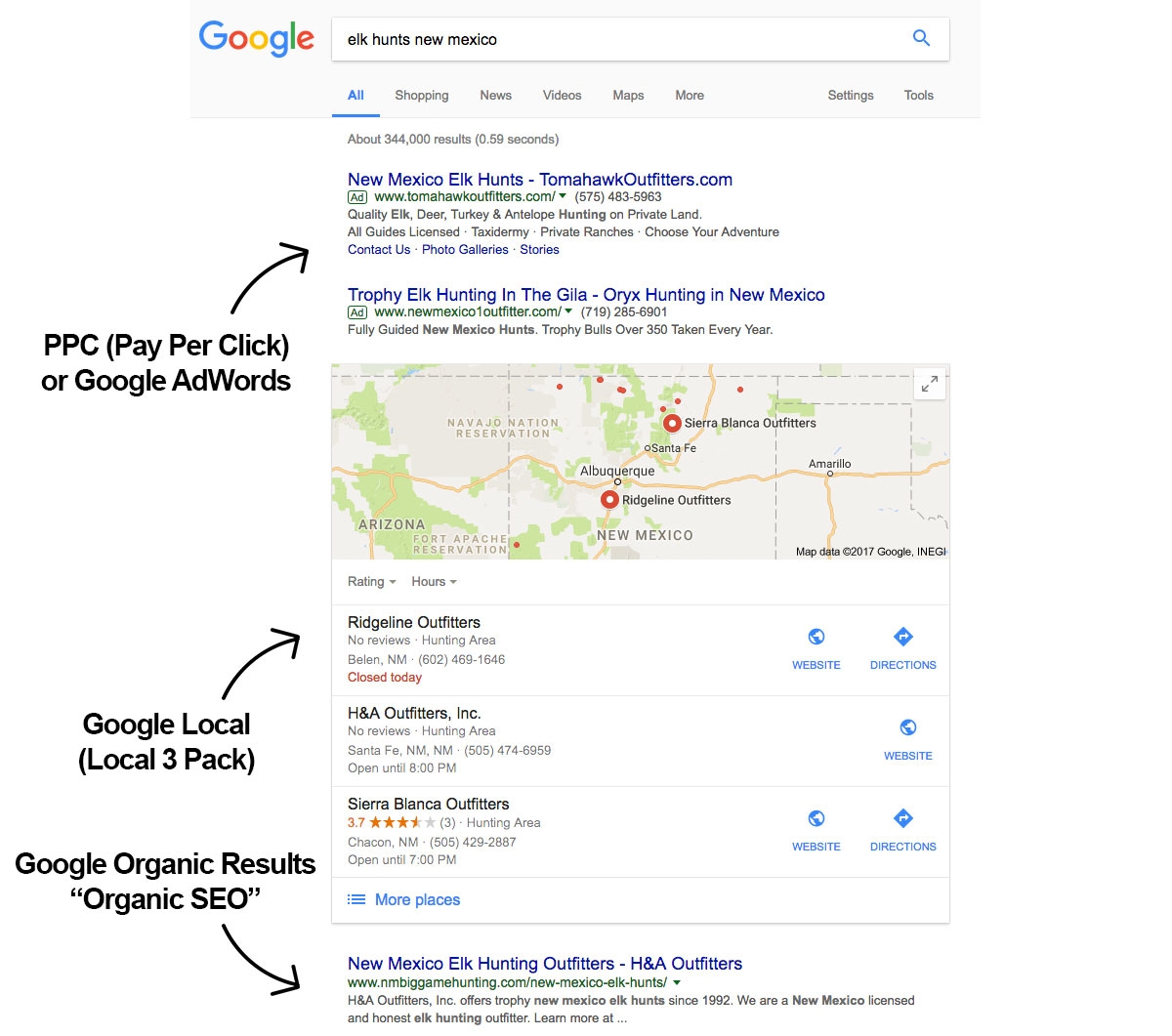 Q6. How can I start driving traffic to my website right away since the organic results take several months to start driving traffic?
A: Pay Per Click (PPC) or better known as Google AdWords or Bing AdWords. You can read more about that here.
Q7. I can't find us in Bing, Google, AppleMaps, Yelp, TripAdvisor, BBB, Yellow Pages, Facebook, or other online sources?
A: Someone needs to manually submit your business to those sources. If you would rather pay us to do it, we would be happy to help with our Local Listing Marketing Package.
Still need help or don't want to DIY?

We have maintenance service and website update packages available. Please fill out a ticket and a 3plains representative will reach out to you with details on pricing and packages.
Back to Website Management