Hunting Marketing & Web Design by 3plains
3plains offers professional marketing, web design and Search Engine Optimization (SEO) within the hunting industry. We are hunters, webmasters, & marketers so we understand your hunting business as well as how to promote it on the internet. Call us at (612) 716-2060 with questions, or send us a email.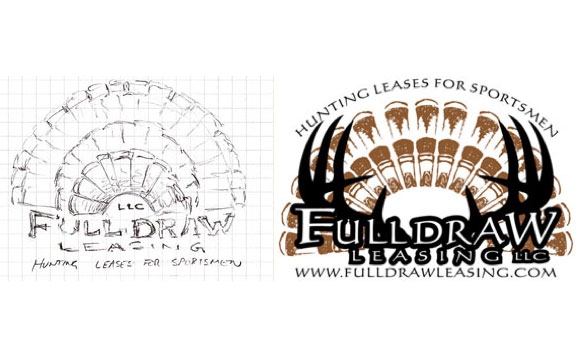 Custom Logo Design for Hunting Guides, Clubs, Lodges and Outfitters
Do you need a professionally designed logo for your hunting website? Are you wondering how will we create the logo you want? View our detailed logo building page to discover how we will create your hunting businesses logo from your vision. We take your vision and make it a reality. View more information on our hunting logo design page.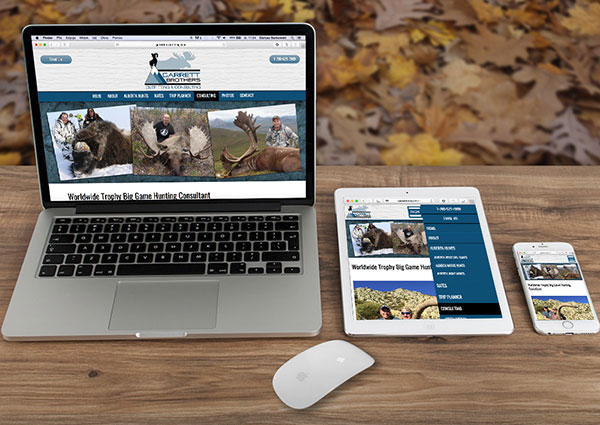 Hunting Web Design - Mobile Friendly
Upgrade your hunting web design and attract new customers. When it comes to websites, people judge the book by the cover. Don't lose them as a potential customer by having a poor looking website. Let us help you come up with a great looking website that helps bring in business. The hunting websites we build and design are lead-generating, revenue producing websites. We consider our websites and marketing products to be one of the best values available to your hunting business. We are both hunters and avid internet enthusiasts -- a great combo that enables us to create the perfect hunting website for you. We have websites that fit any budget, so give us a call to discuss your needs!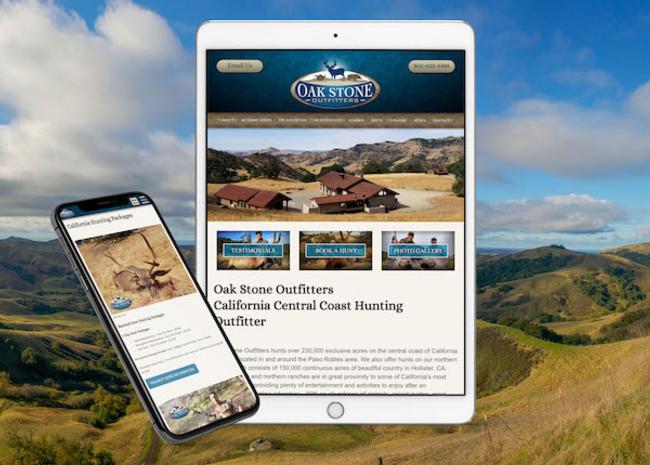 Details About Our Hunting Websites
Types of Hunting Web Design - We build all sorts of hunting websites for whatever kind of game you offer: whitetail deer, mule deer, blacktail deer, turkey (merriam, rio, eastern, oceola), pheasant, dove, chuckar, grouse, quail, elk hunting, pronghorn antelope, varmint, prairie dogs, coyote, african game, hog (boar), buffalo (bison), moose, red stag, caribou, waterfowl, geese, ducks, mountain lion, predator, bobcat, javelina, bear (black, brown, grizzly), oryx, bighorn sheep, ibex, mountain goat, aoudad sheep or any other game.
New or Existing Customers – Are you thinking about creating a new website? Or do you have an existing site that needs a makeover? Regardless of your needs, we can take care of it: Web Design, Brochures, Logo Design, Hosting, Search Engines, Domain Name, Email, Marketing Consultation, and Software to update your website. Make us your one-stop marketing shop. We want you to be able to focus on your business and what you are good at. Let us focus on what we are good at... making your website successful.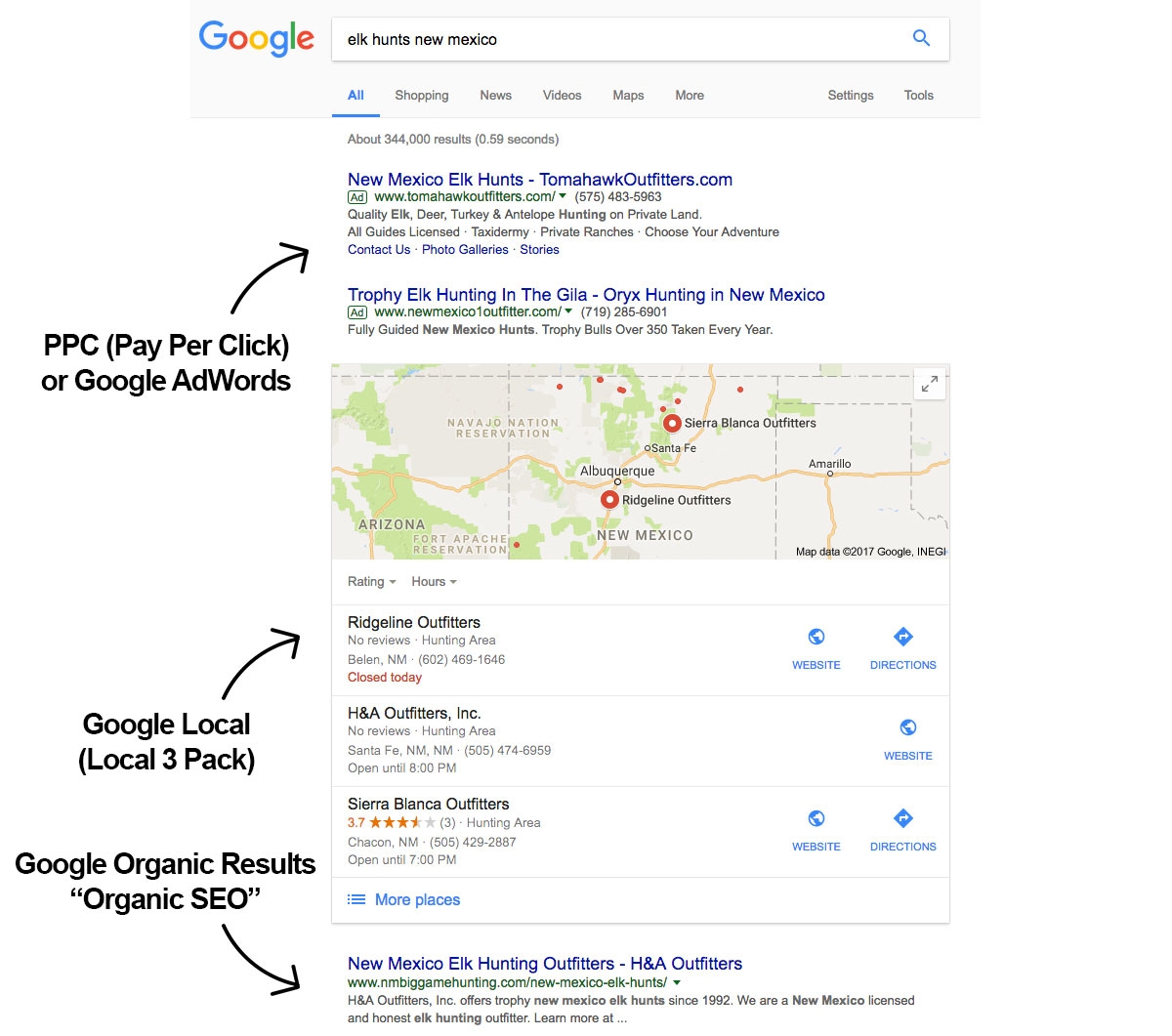 Website Marketing & Search Engine Optimization (SEO)
Search Engine Optimization (SEO) and search engine marketing is becoming one of the most important parts of the website building process and one of the most important tools for marketing your business. How does the search engine process work? How will it bring you business? Is it difficult? Every web designer these days claim they do Search Engine Optimization, or hunting SEO. Do they? How do you really know? What are they going to do to get you to the top? Before you hire a SEO consultant, ask questions about what they will do and write down a list of how they plan to get your business to the top. There is a lot of snake oil in the online industry with regard to SEO.
Contact us and we can walk you through what you need to know, what you need to do and what it will cost. We can either show you how to do it yourself, or we offer several Search Engine Optimization packages for you to choose from so we can help your website rank on that coveted first page in Google.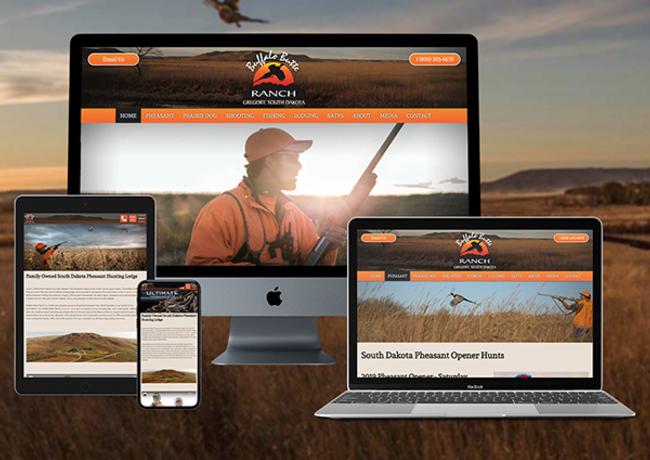 3plains CMS & Hosting
Why email your current web design company and wait? Add and edit your own website information with our 3plains CMS.
Unlimited Pages
Photo Gallery
Events Calendar
Electronic Sign-Up forms
Waiver forms
Electronic Newsletter features
Member Sign-in area
And more...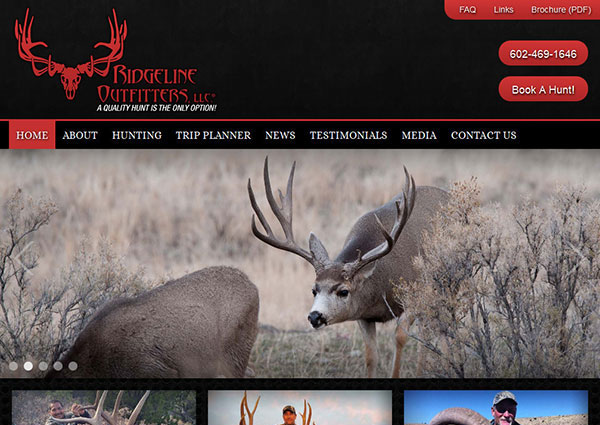 3plains vs. Competitors
With any industry, there are good businesses and bad businesses. Our recommendation is to get accurate comparisons of equal products before judging a web company's price quote. Like with any other product you might buy, a web company should explain to you what's under the hood and what you are actually paying for. We don't recommend skimping on a few necessary items. Some other hunting website design companies offer packages that simply don't measure up. While they may save you a few dollars up front, they will ultimately cost you thousands in lost clientele/revenue. At 3plains, we can set up a budget and work with you over time to implement the different marketing tools that can make that little bit of difference.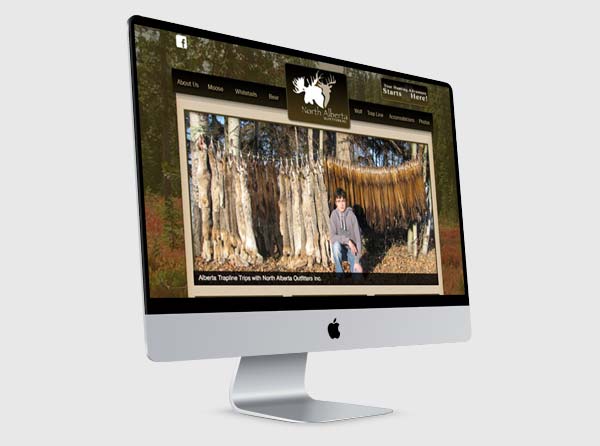 Website vs. Traditional Advertising
Given the heavy use of the internet by the general public, you should be spending time and money on your website before spending it on traditional forms of print marketing/advertising. While those more traditional forms of print advertisements work, many times they simply point a potential client to your website to gather more information. If your website is outdated or difficult to navigate, potential clients may judge the book by its cover and be deterred. At 3plains, we have heard this sentiment directly from our client's customers- they have hunted with our customers solely because their website was updated, clean, and easy to navigate.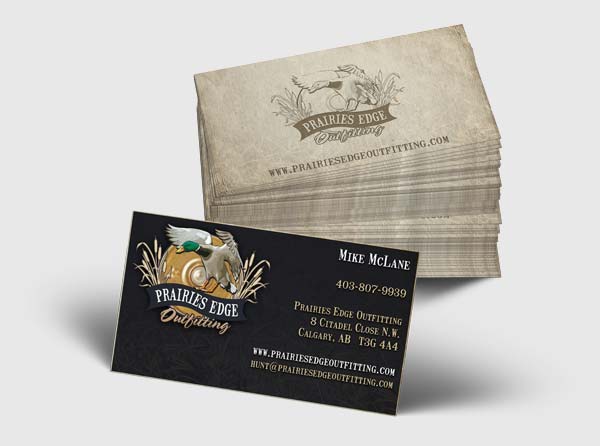 Regional Hunting Websites / Marketing Approach
3plains has worked with many different types of outfitters, lodges and guides, and we have learned many things about the industry from them. What works in South Dakota may not work in Illinois. The same can go for species-what works for an elk hunting outfitter may not work for a pheasant hunting outfitter. That is why we approach each project with an open mind, and let the owners tell us who they perceive to be their target clientele, how they are currently trying to reach them, and what they have tried in the past.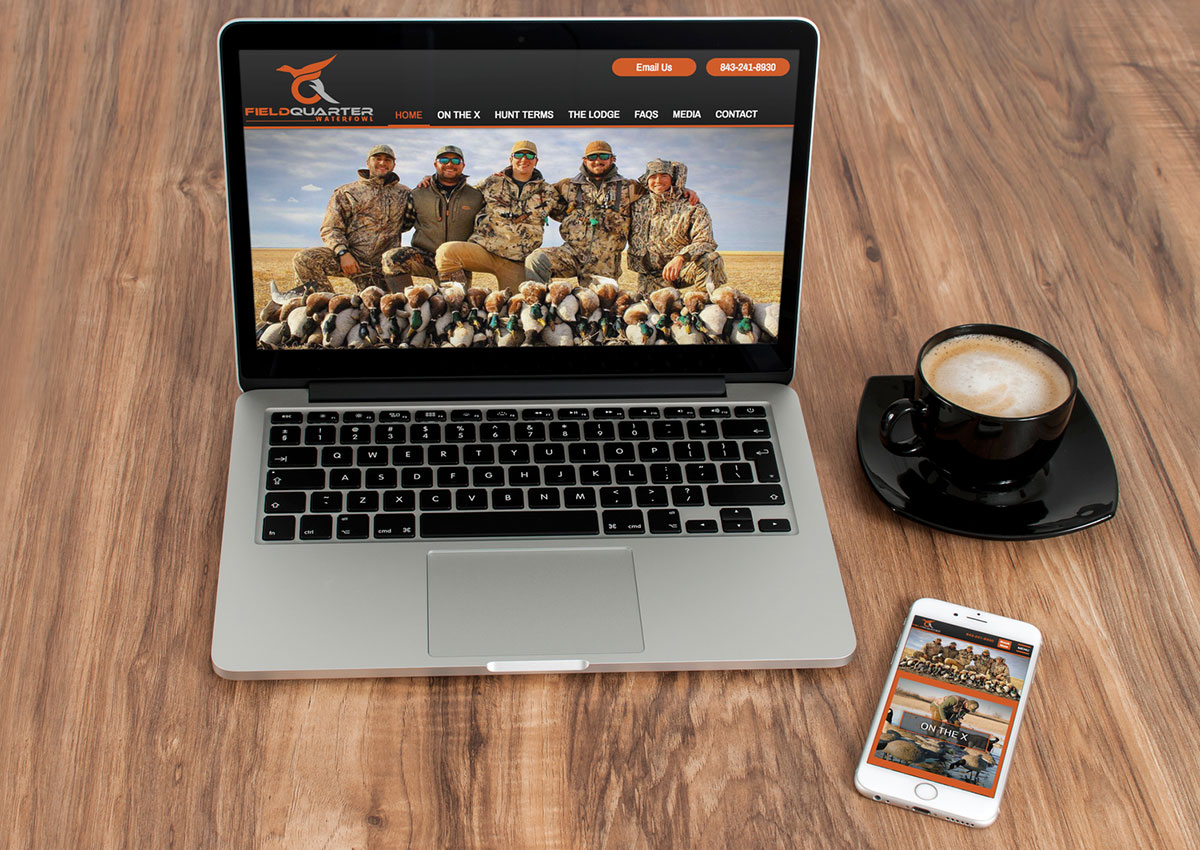 Why 3plains? We help build your business.
The primary focus of 3plains is to value the dollars you spend so that you are confident that your money actually goes into a good product with excellent value. Understanding your business takes time since we need to understand our customer's goals, products, services, and potential clientele. Each hunting outfitter, lodge, or guide service is a little different, and we want to be sure we understand the potential business you want to generate.
As avid outdoors people with professional marketing and web design backgrounds, we not only understand the hunting industry and how it works, we also understand how to attract your target audience to your business. We understand the clientele that you are trying to reach and sell your services to and genuinely care about your business and will give you creative and constructive feedback to help your operation.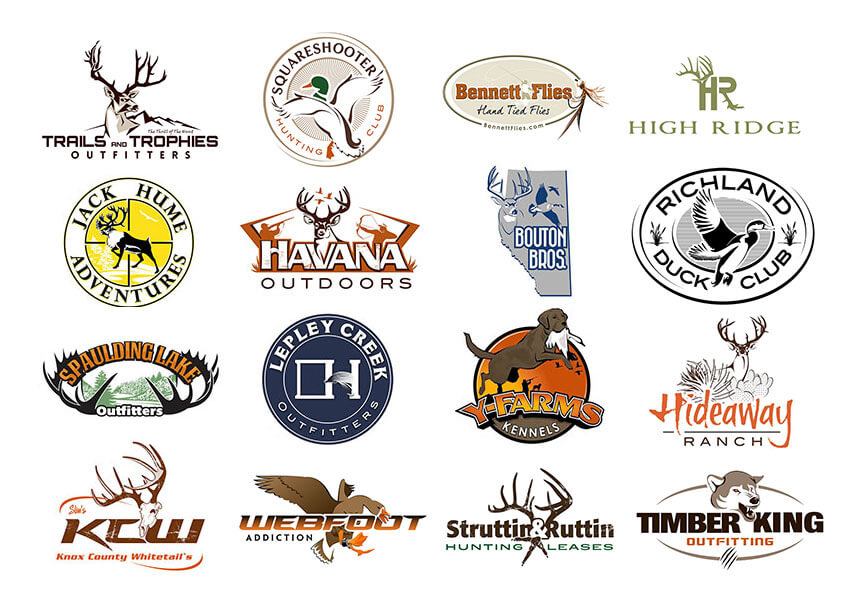 Full Service Company
3plains is your one-stop-shop for all design, search engine, video, and marketing needs. We offer web design, logo design, business card design, brochure design, website hosting services, search engine optimization services, domain names, video services, DVD packaging, virtual tours, photography, email, ecommerce, and our search engine friendly 3plains Site Manager so you can update your own website. For lodges, guides, outfitters, agents, or any hunting-related business looking to generate hunters and generate revenue, our system and experience is perfect for your website needs. View more of our custom hunting web design examples at our web design portfolio page.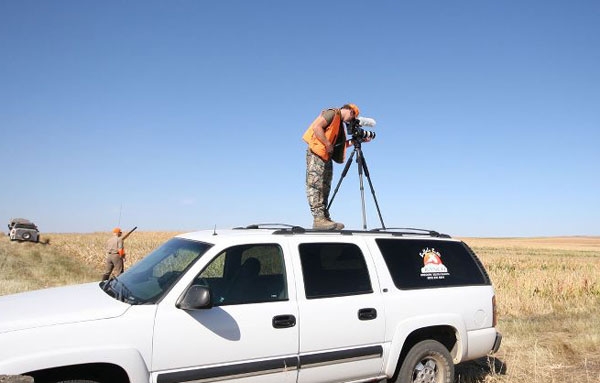 Hunting Promo Videos
Promo video production, video editing and video marketing from our video partners.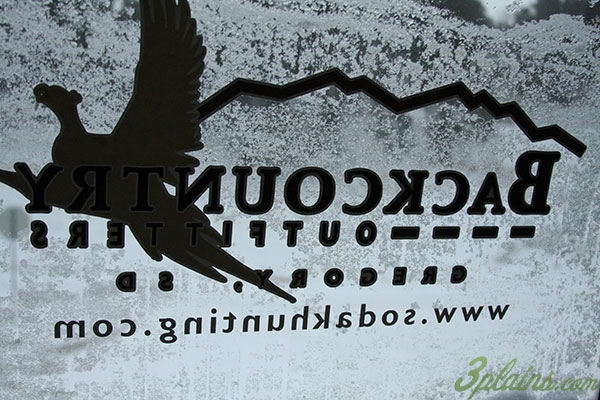 Hunting Promotional Products & Design
3plains offers hunting truck decals and vehicle design services. Read our blog post about a tailgate graphic we created for Greg of River Valley Outfitters. You will be surprised to learn how much time, thought, and effort went into creating this one-of-a-kind decal. You dream it, we build it. Give us a challenge!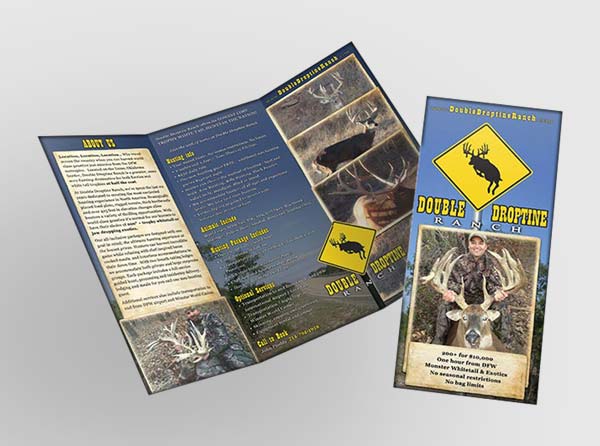 Hunting Brochures & Print Design
Print Brochures are still a must for sending that professional image out to your current and potential hunting customers. View more info on our DVD packaging & design, hunting print brochures, print design examples, postcard design or rack card design services.
Contact Us or Questions?
Contact us for questions, pricing or to start your project. Read some of our customer testimonials.